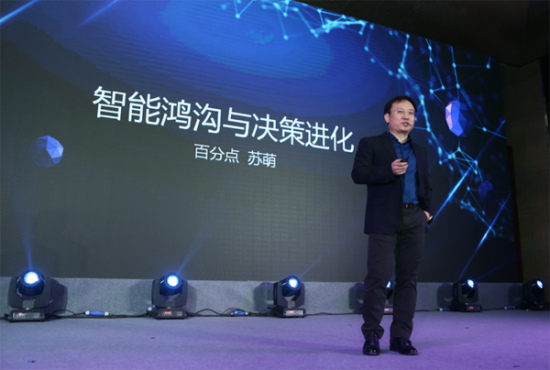 Su Meng, chairman and CEO of Baifendian Group. [Photo provided to chinadaily.com.cn]
Beijing-based big data technology and application services provider Baifendian Group announced Thursday it has launched China's first industrial artificial intelligence decision-making system, aiming to help companies span the intelligent divide and drive better business decisions.
Su Meng, chairman and CEO of Baifendian, said the company will drive the development of AI technologies to meet the growing need for intelligent analysis and application of data, enabling enterprises to efficiently manage data assets.
"For enterprises and organizations, the ultimate intelligence is to be able to solve problems. Powered by big data and AI, intelligent decisions will be the direction for future corporate decision-making evolution," Su added.
Dubbed Deep Matrix, the new system, which incorporates big data and AI technologies, supports the automatic identification, judgment and inference of complex business issues and then is able to make decisions and predictions.
To better cater to different clients' specific needs, the company released five application products, including the intelligent security analysis system Deep Finder, intelligent government decision-making system Deep Governor, intelligent multimedia service system Deep Editor, smart marketing system Deep Creator and smart manufacturing system Deep Sensor.
Su said under the support of Baifendian's system, the General Administration of Quality Supervision, Inspection and Quarantine has improved its decision-making on automobile recalls.
"Previously, the AQSIQ Defective Product Administrative Center had to organize more than 10 experts to spend hundreds of hours on the quarterly consultation. Now, they have a real-time decision-making system, which only needs one person to work with the machine," Su added.
Buoyed by supportive government policies, such as the Belt and Road Initiative, the company has expanded the business to overseas markets. According to the company, it has established national-level big data and AI platforms in countries and regions in Africa and Latin America, to empower local governments' social governance and services.
On Thursday, Baifendian also announced a strategic partnership with Chinese e-commerce titan JD, saying it will cooperate with the latter's cloud unit at the technical and market level to better meet different customer needs.
Founded in 2009, Baifendian Group has raised 1 billion yuan ($151 million), including the latest 400-million-yuan Series D round of financing led by Everbright Securities in 2015, according to company figures. Currently, it has provided big data services to more than 2,000 companies, including Huawei Technologies and TCL Corporation.