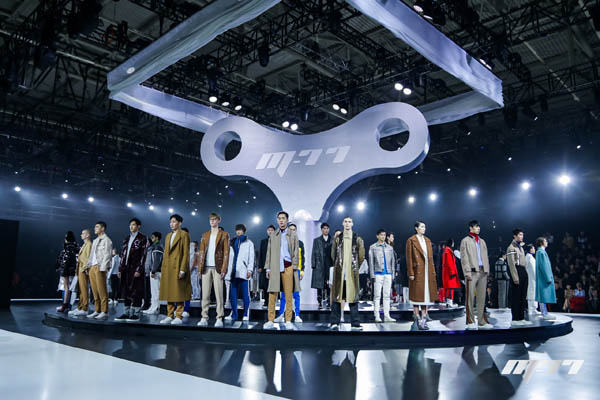 Models present creations of the new brand M-77 at a recent fashion show for its fall/winter collection. (Photo provided to China Daily)
This sentiment was echoed by Zhang, a former veteran makeup artist.
"Huang has been a star for nearly 20 years, and I have worked as a styling designer for nearly 20 years. We have seen many ups and downs. Consumers and the market are practical. People will only follow you if your products are of good quality," says Zhang.
Born in Qingdao in East China's Shandong province, Huang recalls his family was not able to afford good clothes when he was young.
"My mother had to tailor old clothes to make them look new and trendy. I was happy to wear them then," says Huang.
His adolescent struggle for affordable fashion has translated into a strong desire to make non-luxury, good-value clothing for those in a similar situation.
"In those years, youngsters were usually very excited to have new clothes, but they were usually difficult to satisfy," he explains.
This reminiscent mood was also apparent at the show, where models displayed M-77 outfits against a backdrop of nostalgic paraphernalia. An array of items symbolizing the childhood memories of Chinese people born in the 1970s, from glass balls to wooden toy guns, adorned the hall. Eight outfit ranging under five themes, including one designed with American clothing brand Discovery Expedition, made onto the catwalk.
Huang explains the concept behind M-77: While "M" stands for man, "77" refers to the 1970s.
He also promises the brand will focus on producing inexpensive yet good-value items to make them affordable for ordinary people, as well as adding some Chinese elements to make it more appealing than some other foreign rivals.
Huang also reveals that he will play an important role in designing the clothes, and bring his favorite elements to the brand, such as military uniforms.
It's hard to predict whether Huang will become China's answer to Victoria Beckham, the former popstar-turned-designer, but the Chinese actor has certainly made a splash.
His Dec 7 post on micro blog Sina Weibo announcing the founding of M-77 has so far obtained around 32,000 "likes" and nearly 6,000 comments, far more than his promotional posts for the upcoming film Forever Young, in which he co-stars with Zhang Ziyi and other top stars.