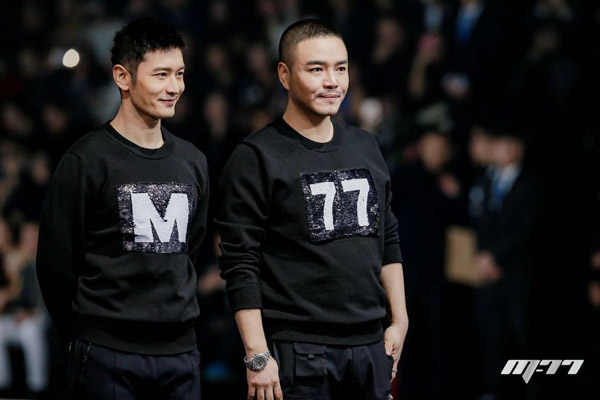 Actor Huang Xiaoming (left) and designer Zhang Shuai wear creations of M-77, a new fashion label they launched, at the brand's first fashion show in Beijing. (Photo provided to China Daily)
Huang Xiaoming may have just launched a label with designer Zhang Shuai, yet the Chinese film star insists he won't be tapping into fans to push sales.
Wearing a black T-shirt bearing a large "M" on the chest and a pair of matching pants, A-list actor Huang Xiaoming was looking sharp in the outfit he had a hand in designing.
Last week, the 40-year-old star and the emerging designer Zhang Shuai jointly launched their fashion label M-77, and held the brand's first fashion show for its fall/winter collection at the National Agriculture Exhibition Hall in downtown Beijing.
Despite nighttime temperatures falling to as low as-6 C, a number of celebrities, including actresses Fan Bingbing and Li Xiaolu, attended the red-carpet event wearing only dresses or light clothing, in an apparent sign of Huang's growing influence in showbiz circles.
Over the past 16 years, Huang has starred in 34 movies, appeared in 24 television dramas and picked up a few best actor awards for his work in domestic TV series.
His best-known works include the biographical drama Xuan Zang, a true story about the Tang Dynasty (618-907) Buddhist monk. The film represented China to contend for the Oscar's best foreign language film award in 2016. Huang also stars in Hong Kong director Peter Chan's 2013 award-winning feature American Dreams in China.
For most industry observers, Huang's handsome looks have helped pave the way for his huge popularity, which he is now using to realize his ambition of running a successful business.
Before establishing M-77, Huang had invested in dozens of different fields, including the internet business, catering services, medical treatments, several movie and television projects, and even in the environmental protection industry.
While top fashion bloggers are followed by no more than 2 million fans on Sina Weibo, Huang commands a following of 54 million people.
So, it was no surprise to hear one of the press pack surrounding the star asking whether Huang was planning to rely on his stardom to promote the brand.
"No, we will not be using our fans to boost sales," Huang replies simply.