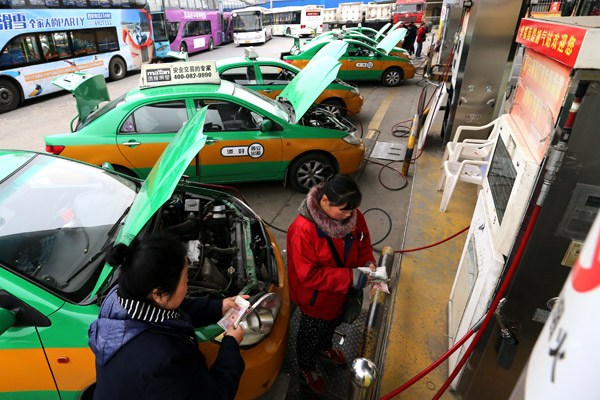 Authorities in Shaanxi province limited the amount of liquefied natural gas cab drivers can purchase. (Photo/CHINA NEWS SERVICE)
Surging demand for cleaner fuel affects household heating and pushes up market prices
Every day, before starting his shift, taxi driver Zhong Guishun heads to a gas station to fill his tank. Usually, the process only takes a few minutes, but last week it took more than two hours.
Like most cabs in Shijiazhuang, capital of Hebei province, Zhong's car runs on liquefied natural gas, which was in short supply.
"Only a few stations had the fuel. Some of my peers, who have been driving cabs for more than a decade, said the situation is the worst they've ever known," he said, adding that the line of vehicles stretched more than a kilometer.
Although supplies at gas stations have returned to normal, the provincial government has yet to lift the orange alert-the second-highest level, signaling a shortfall of as much as 20 percent-it sent out about gas supplies last month.
Hebei is one of the areas hardest hit by the winter gas shortage, a chronic problem that officials and industry insiders say has been exacerbated by a reduction in imports and a surge in demand resulting from efforts to get millions of rural homes to switch from coal-a major source of winter air pollution-to clean energy.
Authorities have been building new industrial-sized central heating generators and converting existing facilities to burn cleaner fuels, as well as promoting the use of natural gas in the countryside, where residents traditionally use coal for cooking and heating.
The massive project, coupled with a range of pollution-control measures and strong winds brought by cold fronts, has resulted in a string of blue-sky days in many northern cities so far this winter.
However, some generator projects were still not ready when temperatures began to fall, while attempts to get villagers to replace coal burners with gas units have arguably gone too well, resulting in a surge in demand for the cleaner fuel.
Jiao Shiqing, a housing and urban-rural development official in Hebei, said the province set a target of converting 1.8 million homes to clean energy by the end of October. However, the rapid uptake means that more than 2.1 million homes have already switched to gas, while a further 219,000 are now using electricity.
Liang Yike, an official with the Hebei Development and Reform Commission, said, "Even without the shift toward clean energy, demand for LNG has risen steadily in recent years."
However, he acknowledged that introducing the fuel in so many homes at such a rapid rate had resulted in an "unprecedented surge in demand".
During the "heating season"-which runs from Nov 15 to March 15 annually-demand in Hebei was 3.5 billion cubic meters last year, according to Liang. This year, the figure is forecast to be 8.2 billion cu m.
Lu Yanan, a resident of Xihuanghe village in Baoding, Hebei, said a gas boiler was installed in her home after Nov 15, but the promised heat failed to arrive.
"I have children and seniors at home, so I had to keep the air conditioners running at all times to keep warm," she said.
"Even now, the gas supply is unstable and we experience frequent outages. Before, we could fire up our coal boiler any time we wanted. But with an unstable gas supply, we're just not sure if the new boiler can keep the house warm every day."
On Dec 5, China Youth Daily reported that rural primary schools in Hebei had also been affected, such as those in Quyang county where photos showed students attempting to keep warm by sitting in the winter sunshine.
With even colder weather approaching, Liang said his department is working with other provincial authorities and gas companies to coordinate supplies.
Areas that met their home-conversion targets by installing central heating boilers on schedule have been ordered not to expand their programs, while people in areas where work is unfinished are being given replacement conventional boilers and clean coal to heat their homes, Liang said.
On Dec 4, the Ministry of Environmental Protection sent an urgent notice to authorities in northern China telling them to use coal to provide heating in areas where energy transfer projects have not been completed.
On Wednesday, the Ministry of Housing and Urban-Rural Development, which oversees heating systems, urged officials in North China to visit homes to ensure that everyone is receiving heat.