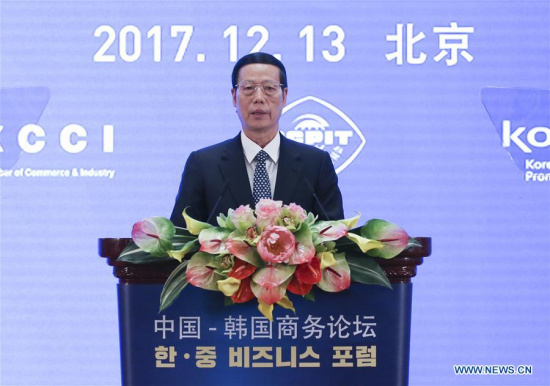 Chinese Vice Premier Zhang Gaoli addresses the China-South Korea business forum in Beijing, capital of China, Dec. 13, 2017. Zhang Gaoli and visiting South Korean President Moon Jae-in attended the forum. (Xinhua/Yao Dawei)
Chinese Vice Premier Zhang Gaoli and visiting President of the Republic of Korea (ROK) Moon Jae-in jointly addressed a China-ROK business forum in Beijing Wednesday.
Zhang said China highly values China-ROK relations, and the two countries' heads of state will exchange views on bilateral ties and draw a blueprint for future development.
He called on both sides to implement the consensus of the two heads of state to boost progress of China-ROK ties.
"Sound China-ROK relations meet the trend of history as well as the common aspirations of both peoples, and cooperation leads to win-win results," he said.
Zhang said China-ROK relations are at a "key" stage, and the two countries should combine development strategies to contribute to "building a community with a shared future for mankind."
He asked both sides to enhance trade cooperation and cultural exchanges, and boost global cooperation, to open up new prospects for China-ROK relations.
China held an annual memorial for the victims of the Nanjing Massacre in the eastern city of Nanjing Wednesday, and Moon showed his empathy to the victims while in Beijing.
As close neighbors, the ROK and China have similar culture and tradition, Moon said, adding the two sides have fast-developing economic and trade cooperation and frequent personnel exchanges.
Moon pointed out that in the past the bilateral ties had their difficult moments, but that he hoped his visit would help the two countries rebuild friendship and trust.
Zhang said China and the ROK are high-quality partners with obvious cooperative advantages, and China is ready to work with the ROK to deepen cooperation and promote bilateral ties.
Moon said the ROK agrees with the Chinese proposal of "building a community with a shared future for mankind" and that he hopes both countries will usher in a new era of economic and trade cooperation.