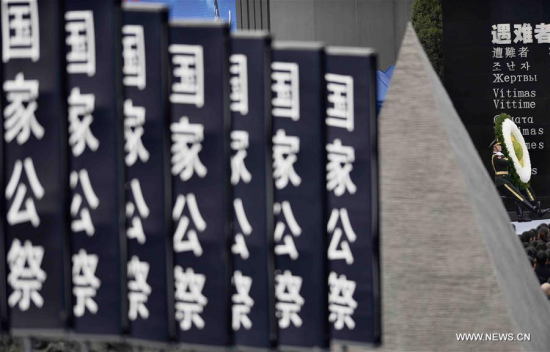 Photo taken on Dec. 13, 2017 shows the scene of state memorial ceremony for China's National Memorial Day for Nanjing Massacre Victims at the memorial hall for the massacre victims in Nanjing, east China's Jiangsu Province, Dec. 13, 2017. (Xinhua/Han Yuqing)
Chinese and Japanese people should more cherish the hard-won peace, and the international community need to honestly face up to history, top political advisor Yu Zhengsheng said Wednesday.[Special coverage]
Yu, chairman of the National Committee of the Chinese People's Political Consultative Conference, made the remarks while addressing the national memorial ceremony to mark the 80th anniversary of the Nanjing Massacre.
Japanese troops captured Nanjing, then China's capital, on Dec. 13, 1937 and embarked on more than 40 days of slaughter. About 300,000 civilians and unarmed Chinese soldiers were brutally murdered, and over 20,000 women raped.
Yu described the crimes committed by Japanese invaders in the massacre as "inhumane," "appalling" and a "dark page in the history of humanity."
"War is a mirror, which makes people better understand peace," Yu said. "To avoid any repeat of this historical tragedy, we must make unremitting efforts for the lasting and even eternal peace of mankind."
China and Japan should take into consideration the fundamental interests of their people and make contributions to human peace, Yu said.
"The world should work together to maintain international order with the purposes and principles of the United Nations Charter at the core," Yu said. "No matter what stage of development it reaches, China will never seek hegemony or engage in expansion, nor will the country impose the plight it once suffered on other nations."
He said China wanted to work with the world in building of "a community with a shared future for mankind," and continue to safeguard world peace, contribute to global development and uphold international order.
Yu said China was holding the memorial ceremony to commemorate the Nanjing Massacre victims, compatriots killed by the Japanese invaders, national heroes who sacrificed their lives for victory, as well as international soldiers and friends who joined the Chinese in fighting.
"The commemoration is meant to proclaim the Chinese people's firm stance in maintaining peace and their sublime aspiration for peaceful development," he said.
Yu said the Chinese people would always remember the humanitarian help from foreign friends, such as German businessman John Rabe, Bernhard Arp Sindberg from Denmark and American priest John Magee, who defied the Japanese invaders' brutal killings, protected Chinese civilians and took records of the atrocities.
In February 2014, the Standing Committee of the National People's Congress, China's top legislature, designated December 13 as the "National Memorial Day for Nanjing Massacre Victims."