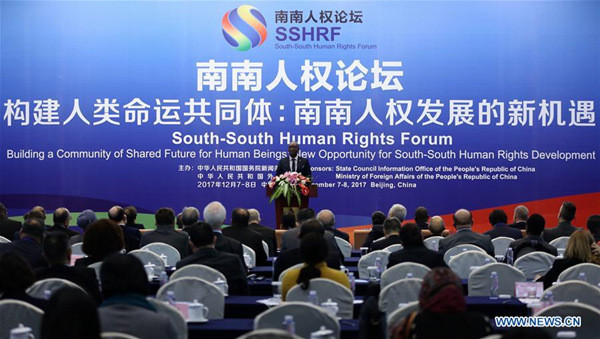 Willy Nyamttwe, principal counsellor in charge of press, information and communication of the Presidency of the Republic of Burundi, announces the Beijing Declaration at the South-South Human Rights Forum in Beijing, capital of China, Dec. 8, 2017. (Xinhua/Jin Liwang)
The first "South-South Human Rights Forum" was concluded in Beijing Friday, calling for efforts to safeguard people's right to development.
The two-day forum, themed "Building a Community of Shared Future for Humanity: New Opportunities for South-South Human Rights Development," saw more than 300 officials attend, including scholars and representatives from over 70 countries and international organizations.
According to the Beijing Declaration issued at the forum, participants agreed that the right to subsistence and the right to development were the primary basic human rights.
"Developing countries should pay special attention to safeguarding people's right to subsistence and right to development, especially to achieve a decent standard of living, adequate food, clothing, and clean drinking water, the right to housing, security, work, education, health and social security," the declaration said.
The participants agreed in the declaration that Chinese President Xi Jinping's proposal to build a community of shared future for humanity was "a major concept which conforms to the trend of the times, fits the requirements of development, and reflects the pursuit of a new human social value."
Xi sent a congratulatory letter to the forum Thursday, calling on the international community to respect and reflect the will of the people in developing countries in human rights development.
Xi said that human rights worldwide could not be achieved without the joint efforts of developing countries, which account for more than 80 percent of the world's population. He stressed that human rights must and can only be promoted in light of specific national conditions and people's needs.
Xi called on developing countries to uphold both the universality and particularity of human rights and steadily raise the level of human rights protection.
"The Chinese people would like to work in concert with people in other developing countries and beyond to advance development through cooperation, promote human rights through development, and build a community with a shared future for human beings," the message read.
The message was read by Huang Kunming, member of the Political Bureau of the Communist Party of China (CPC) Central Committee, at the opening ceremony of the forum.
"The important thought on building a community with a shared future for human beings proposed by Xi offered Chinese wisdom and solutions toward a more fair and reasonable global human rights governance," said Huang, who also heads the publicity department of the CPC Central Committee.
Willy Nyamitwe, senior advisor on media with Burundi's Office of the Head of State, said that other developing countries can learn from China on fighting against poverty and improving the well-being of the people.
"Some people have misunderstanding about human rights, while they always talk about civil and political rights, they forget that citizens need to get the life and conduct their lives in a better way before they get civil and political rights," he said. He believed that for developing countries it was important to fight against poverty, and this was one of the best way to promote human rights.
Farukh Amil, ambassador and permanent representative of Pakistan to the United Nations Office at Geneva and Other International Organizations in Switzerland, said that building a community of shared future for humanity was "not a slogan, it is important to inspire people and make people get up and do something."
"We have to work together. We must respect each other and live together," said Amil. He said that people face common challenges and need cooperation rather than confrontations.
Mutinta Stella Mushabati, senior counsel of the Ministry of Justice of Zambia, said that China, as one of the major contributors to the South-South Cooperation and a major foreign investor in most developing countries throughout the world, was now promoting international human rights to build a community of common destiny with other developing countries.
At the 19th CPC National Congress, the Chinese government laid out a diplomacy blueprint aiming to foster "a new type of international relations."
"The message that we have heard coming out of China's 19th CPC National Congress that spoke very much about shared values and common destiny is an important one," UNICEF Representative to China Rana Flowers said, adding that the South-South Human Rights Forum was a good initiative to bring developing countries together for a better future.
Due to the constraints and various factors, there are still many problems in improving the human rights protection of developing countries.
"It is necessary for developing countries and the international community to keep on making their unremitting efforts," the Beijing Declaration said.