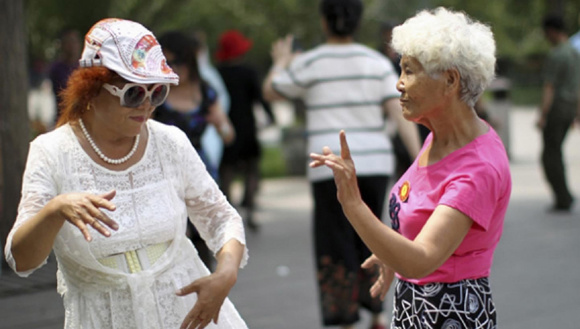 Public square dancing helps grannies develop a social network to counter loneliness in old age and it also keeps them physically and mentally fit. (Photo/China Daily)
The temperature may be minus two degrees Celsius, but Liu Fenglan and dozens of other senior Chinese women are unfazed as they dance in formation in a park. Year round, thousands of mature women perform "guangchangwu", public square dancing, twisting their way to physical and mental agility.
The dancing grannies at Society Park at Coastal Silo City, Beijing are dressed in red tracksuits emblazoned with "Dream Team, Happy Dance." Only a few, like Miss Yang, wear navy blue. She is the leader of the group.
In recent years, these grannies have become a cultural mainstay in China – and now their influence may be spreading.
Guangchangwu events were recently held in London and many are asking whether these networking and exercise occasions for the elderly could help ease problems of loneliness and poor health in countries with aging populations.
In her study on guangchangwu, Maggie Chao, a researcher at Simon Fraser University in Canada, said that public dance, and collective exercise as a whole, has had a long history in contemporary Chinese society.
Rural women historically performed yangge, a popular rural folk dance mainly in northern regions, as a collective activity aimed at inspiring a plentiful harvest.
A few decades later, migration from rural to urban centers coupled with the Chinese government's introduction of a nationwide fitness program ahead of the Olympic Games in 2008 drove low-cost physical activity and provided a boost to square dancing.
The second generation of women who migrated to cities got a chance to relive their old dance form in a modern way.
Urban planning and well-being
According to Professor Judith Farquhar of the University of Chicago, senior women dancing and exercising in public parks or squares became a unique national feature for China in the 1990s.
A majority of retired women argued that it was a service to the nation and the community for older people to get out into public places and engage in healthy activities.
"During my research, I found life-nurturing activities like dancing were a rational economic choice for these women," Farquhar told CGTN. "Many people said that they and their grown children could not afford a serious illness in old age. Dancing also helped them create a social network to counter loneliness in old age."
Urban planning has also given an aging population more chance to socialize. Municipalities have ensured that housing complexes have enough open space for residents – and are kept neat and usable.
"Local authorities ensure that our park is maintained and clean," Miss Yang said.
This prioritization of public spaces for a certain group to indulge in what can be a very noisy activity has created tension in communities. There have been confrontations between the dancers and locals.
"There are cases when dancing [grannies] have got into fights and even protested to restore their open space," according to Farquhar.
Nevertheless, guangchangwu is slowly gaining international attention. In September, China Exchange, a London-based organization, organized "It's Hip to be Square" – a series of free public dances modeled after those in China.
"In China, square dancing has been praised for providing a way for older people to exercise, socialize and be visible in society," the organizers said.
The loneliness of senior citizens has become a cause of global worry. For example, in Hong Kong, a special administrative region (SAR) of China, billions of dollars are spent to create infrastructure for its growing elderly population and the UK SAR government also allocates a lot of money to raising public awareness about the well-being of seniors.
Japan ranks top of the list of countries with aging populations, so perhaps guangchangwu wouldn't have to be exported far to begin having a positive effect.
Nearly, 8.5 percent of the world's population is aged 65 and over, and the number is projected to rise to 17 percent by 2020 when approximately 1.6 billion people will be above 65 years.
"It's not easy to be alone. I used to suffer from body aches and loneliness. The dancing event here has given me company and physical fitness," said Liu Fenglan.
Ashwini Deshpande, an expat living in a Coastal Silo City residence in Beijing, often shakes a leg with the dancing grannies but feels for her aging relatives in India.
Issues of security and a lack of open space in India make it difficult for seniors to indulge in low-cost outdoor leisure. "The sight of these grannies dancing to soulful music tells me life begins at 50," Deshpande said.
Chinese aunties are known much more than square dancing. They have been helping the local authorities manage traffic and maintain cleanliness and security in housing complexes.
Recently, grannies performed a dance at various crossroads as part of the Beijing municipality's campaign to stop jaywalkers and cyclists from jumping red lights