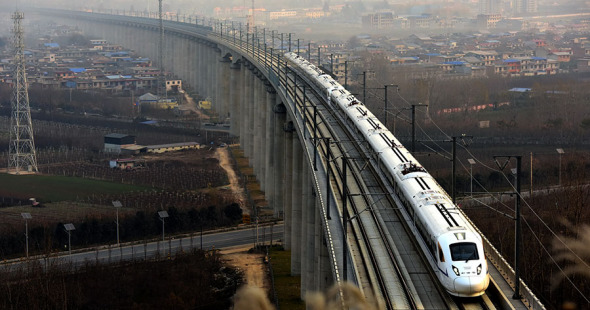 A bullet train heading from Chengdu in Sichuan province to Xi'an, Shaanxi province, passes through the Qinling Mountains area on Wednesday. (Photo by Yuan Jingzhi/For China Daily)
Innovative designs have enabled the introduction of high-speed railways into mountainous regions and enhanced passengers' travel experiences.
The Xi'an-Chengdu high-speed railway, which opened on Wednesday, is the first high-speed line traversing the Qinling Mountains in Shaanxi province.
As the dividing line between China's north and south regions, the Qinling Mountains have complex geological conditions and a diverse ecological environment.
Thus, 94 percent of the new railway in the area is composed of tunnels and bridges.
"The mountains are steep. The mouths of tunnels in the Qinling Mountains are usually located at the bottom of valleys and form a V shape with precipitous slopes on both sides. The steepest slope at the mouth of a tunnel is about 80 degrees," said Liu Shuangjin, general chief designer of the line's Shaanxi section, from the China Railway First Survey and Design Institute Group.
When trains travel between tunnels they are at high risk of being hit by falling rocks, which introduces a serious safety hazard, he said.
To solve the problem, Liu and his team built shields between tunnels to protect the trains from falling rocks.
The shields are disguised to make two tunnels look like a single unit.
The additional section also relieves passengers' ear discomfort when passing through tunnels.
"When a train enters and exits tunnels frequently, the air pressure changes quickly, which causes discomfort to passengers' ears," Liu said.
Another challenge for trains passing through the Qinling Mountains is the long inclines. A 45-kilometer uphill climb on the route is the longest continuous incline in the country.
The train climbs 25 meters for every 1 km it progresses. On the 45 km slope, the train climbs 1,100 meters, equivalent to a 375-story building, said Wu Bo, deputy chief designer of the railway's Shaanxi section.
"It is challenging for the bullet train and the driver," he said.
Thus, a new type of bullet train, CRH 3A, has been adopted with unique brakes that allow it to stop on steep hills without rolling backward.
According to Liu and Wu, the trains benefit from 2G, 3G and 4G reception along the line.
"A special cable has been hung in the tunnels, functioning as a signal tower, to allow passengers internet access in the mountainous region," he said.