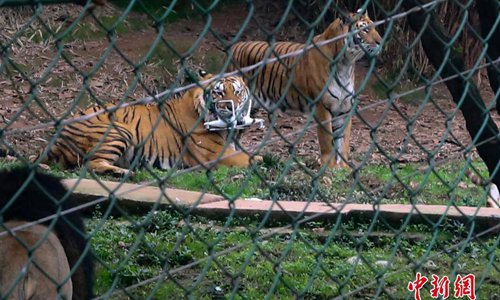 A tiger holds a drone in its mouth at a tiger enclosure in Chongqing, southwest China, Dec 2. The drone was knocked out of the sky by a tiger when flying at the altitude of three meters above the ground. The gadget, worth more than 10,000 yuan ($1,513)) was torn apart.(Photo: China News Service/Wang Chengjie)
A photographer who received permission from a Southwest China theme park to take drone footage of their tigers on Saturday apparently did not ask the tigers if they were on board.
One of the big cats at Chongqing Loca Joy Holiday Theme Park showed his annoyance at the intrusion by leaping an impressive three meters in the air to swat down the flying drone, media reported.
Photos of the aftermath show several tigers surrounding the wrecked machine as it billows smoke.
According to reports, after the leaping tiger smacked the drone from the sky, another took to biting the battery - causing it to catch fire.
It appears none of the tigers were injured.
The drone's owner told reporters he had flown too low and could not pull up in time.
He said the drone cost upwards of 10,000 yuan ($1,600) and was damaged beyond repair.