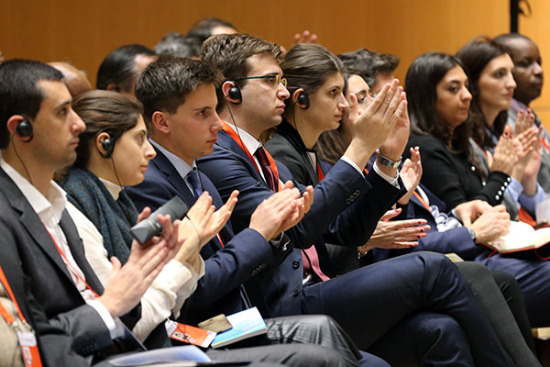 Delegates of political parties respond during a panel discussion on Saturday in Beijing. WANG ZHUANGFEI/CHINA DAILY
Coordination a way to galvanize global action, delegates say
Delegates representing political parties from around the world said the proposal on Friday by Xi Jinping, general secretary of the CPC Central Committee, to make cross-party discussion a regular event was of great significance.
Xi, speaking to a gathering of delegates in Beijing-the CPC in Dialogue with World Political Parties High-Level Meeting-proposed making dialogue between the Communist Party of China and other parties a regular occurrence.
Delegates in attendance noted that the dialogue was the first institutional platform for global political parties to exchange their experiences and learn from each other.
In his keynote speech at the opening ceremony, Xi said regular gatherings should be built into a fixed political mechanism with wide influence.
The CPC will provide exchange opportunities for 15,000 people from political parties around the world in the next five years, he added.
Zheng Yongnian, a professor and director of the East Asian Institute of National University of Singapore, spoke highly of Xi's proposal.
"Sovereign states have the platform of the United Nations to communicate, and even many nongovernmental organizations also have global platforms. But there is currently no global platform for political parties," he said.
In light of ever-closer economic connections between countries, it has become a must for political parties to reach consensus in a number of areas, and it's a pity in the past that political parties-the cornerstone of politics in sovereign states-didn't have a dialogue platform, Zheng told reporters on the sidelines of Saturday's meeting.
The Communist Party of China, with more than 89 million members, will make a meaningful contribution to the world, he said, adding that China's stability is the most important factor in the stability of the global order.
Romano Prodi, former prime minister of Italy and former president of the European Commission, said it will take "progressive plans and agendas" to institutionalize party-to-party dialogue, and priorities should be set every step of the way.
Zizi Kodwa of South Africa, spokesman for the African National Congress, noted that it's a historical practice for the CPC to institutionalize dialogue, and that an ongoing platform could serve as a sort of "United Nations for political parties".
"We cannot achieve a shared future for mankind if political parties are not strong and active," Kodwa said, adding that the parties play an important role in supporting the views of the people in their countries.
China's relationship with the rest of the world, particularly Africa, is not based on imposing ideas but on mutual respect and win-win cooperation, Kodwa added.
The meeting, which attracted around 600 delegates from nearly 300 political parties in 120 countries, is the first multilateral diplomatic event to be hosted by China after October's 19th CPC National Congress. The event concludes on Sunday.