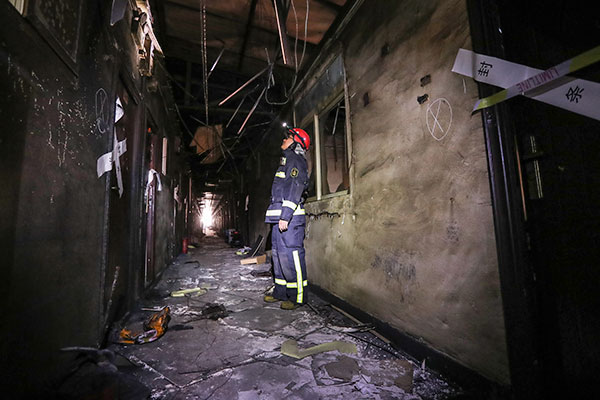 A firefighter checks the site on Sunday of the Nov 18 fire that killed 19 people and injured eight others in Xinjian village, Beijing's Daxing district. (Zou Hong/China Daily)
Migrant workers told to move from unsafe homes over blaze risks
Beijing's latest citywide campaign to eliminate safety hazards in crowded apartments and warehouses must be carried out to prevent tragedies like the fatal fire of Nov 18, the city's work safety commission said on Sunday.
It added that officials should improve the way they explain things as they communicate with residents who are required to move out of danger.
On Nov 18, a fire in an apartment building with more than 400 residents in Xinjian village of Beijing's Daxing district killed 19 people and injured eight.
"The building was a severe fire risk. Its ceilings were made of polystyrene, a flammable material that burns rapidly and sends off lots of poisonous gases," Wei Yiyu, director of fire supervision for Daxing's fire detachment, said on Sunday at the building, which had been emptied.
Gas and smoke would have spread to every room of the building quickly because the rooms' partitions didn't reach the ceiling. That dramatically reduced the time people had to escape, he said.
"In addition, the building was very crowded-three to five people per 10 square meters," he said. "And a majority of rooms had no windows, so it was hard to escape as poisonous gas filled the air," Wei said.
Additionally, many residents had carried out do-it-yourself splicing of electrical wiring, raising fire risks, he added.
After the fire, the city government launched a 40-day citywide campaign to eliminate fire and other safety hazards, in crowded apartments and warehouses that function as storage areas, workshops or residences for workers, the Beijing Work Safety Commission said.
Many densely clustered properties in former industrial areas in the suburbs of Beijing have been modified illegally, the commission said. In general, such properties cannot pass health and safety inspections, yet cheap rents continue to draw people in. In some old warehouses, flammable materials were used as partitions to create living spaces for several hundred people without official approval, it said.
So far, 25,309 safety hazards have been found citywide, the commission said.
People who have been living in unsafe dwellings have been asked to move out during the campaign. Some said on social media that local authorities cut their electricity and water and told them to evacuate the next day, leaving them no time to find another home. Others said they should have been given more time to relocate because of the arrival of cold weather.
The commission said it found that enforcement measures in some areas were "simple and blunt", and urged officials to issue notices in advance and better explain the safety campaign to the public.
It denied accusations that the goal of the campaign has been to force "low-end" workers out of Beijing, adding that many migrants unknowingly stay and work in unsafe conditions.
Caibang, a company that supplies vegetables for restaurants and hotels in Beijing, posted a notice on social media on Saturday saying it will offer free moving services to those forced to move during the campaign.
"We have helped about 60 people move with our trucks so far," said Li Chunmei, an employee at Caibang. "Our boss is a migrant worker, so he understands their plight."
Niu Xingwei, 25, who left his home in Jilin province to work at a human resources agency about five years ago sought help from Caibang to relocate on Saturday.
"I received a notice on Tuesday saying I had to leave my old apartment in Yizhuang by Sunday because it didn't meet health and safety standards. I know it is because of the fire in Daxing," Niu said.
"The rent for my new apartment is 3,000 yuan ($454), almost double the rent for my old one," said Niu. "But there is more opportunity in Beijing, so I still want to give it a shot."
Experts suggested that the city needs to draft regulations and strictly follow them to prevent disasters such as the Xinjian fire.
Although multipurpose warehouses are not safe, they exist because of high demand, Liu Tiemin, a researcher at the China Academy of Safety Sciences and Technology, told China Central Television on Saturday. Perhaps the city government can create safe spaces in warehouses, Liu said.