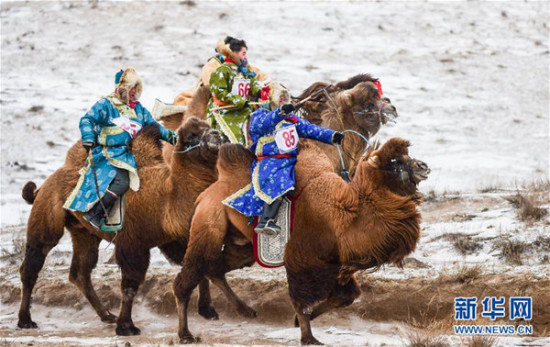 Men ride camels in traditional Mongolian costumes at the Naadam festival held in Xi Ujimqin Banner, a banner under the administration of Xilin Gol League, Inner Mongolia autonomous region, Jan 9, 2017. [Photo/Xinhua]
Stepping up to the starting line and aiming his bow, local Mongolian hersman Nasunbator is preparing for an archery contest slated for January 13, 2018, one of the events during a winter Naadam fair in West Ujimqin Banner of Xilingol League, in northern China's Inner Mongolia Autonomous Region.
"The one-month fair, organized by the local govornment will enrich our life in the cold and seemingly boring pastoral area," Nasunbator said.
The fair, lasting from January 1 to February 8 next year, will feature ethnic Mongolian traditional sporting events including 5-kilometer and 10-kilometer horse racing, indoor archery competitions with shooting distances of 15 meters and 30 meters, as well as a Mongolian wrestling or "Bokh" contest for 256 wrestlers.
Skiing, skating, snowfield soccer, table tennis and square dancing competitions will be held as well during the fair, according to the local sports bureau.
"Most residents used to stay indoors and seldom did sports in the bitterly cold winter," said Buranmandura, a civil servant who works for the Banner, adding that the various sports items during the fair will help them lead a healthier life.
The Naadam fair is a traditional display of strength, horsemanship and marksmanship among Mongolians. Nowadays, more sports items have been added to the ancient carvinal so as to attract a larger number of participants.
Despite low temperatures that average below -18 degrees celsius in January, many local residents and visitors from other provinces or regions have applied to attend the events, said local sports officials.