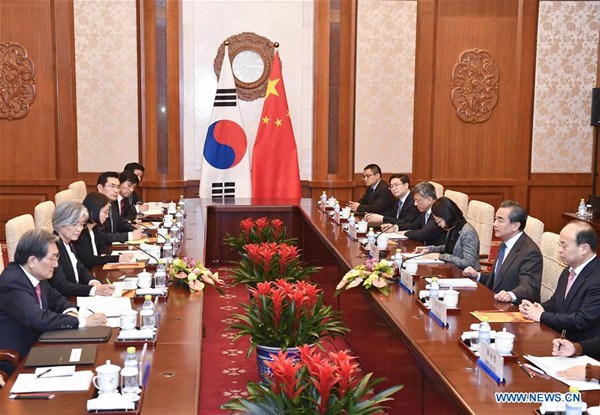 Chinese Foreign Minister Wang Yi holds talks with Kang Kyung-wha, foreign minister of the Republic of Korea, in Beijing, capital of China, Nov. 22, 2017. (Xinhua/Yan Yan)
China hopes the Republic of Korea (ROK) will continue to properly handle the Terminal High Altitude Area Defense (THAAD) missile defense system issue, Chinese Foreign Minister Wang Yi said Wednesday.
Wang made the remarks during talks with his ROK counterpart Kang Kyung-wha.
Wang said China values the ROK pledge that it will not participate in the U.S.-led missile defense system, and will not harm China's security interests with any temporary THAAD deployment.
China-ROK ties have been through twists and turns, Wang said. It was not long since the two sides had announced that they had reached consensus on the THAAD issue in a joint press release, he added.
A few days ago, leaders of the two countries met and clarified the direction for improved China-ROK relations, according to Wang.
Wang voiced hope of working with Kang to increase understanding and minimize differences, based on the consensus between state leaders, to open the door for further high-level exchanges.
Kang is visiting China from Tuesday to Thursday.