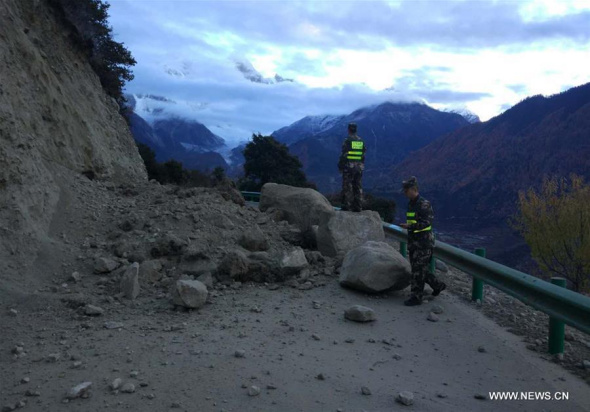 Photo taken with a mobile phone shows rescuers checking a blocked road in Paizhen Town of Mainling County under Nyingchi City, southwest China's Tibet Autonomous Region, Nov. 18, 2017. A 6.9-magnitude earthquake hit Nyingchi Saturday morning. (Xinhua/Liu Pengchao)
No casualty has been reported after a 6.9-magnitude earthquake hit Nyingchi, southwest China's Tibet Autonomous Region at 6:34 a.m. Saturday Beijing Time, according to the China Earthquake Networks Center (CENC).
However, the quake caused power failure and building damages in a number of villages in the epicenter in Nyingchi City.
The epicenter was monitored at 29.75 degrees north latitude and 95.02 degrees east longitude.
The quake struck at a depth of about 10 km. Several minor aftershocks were felt.
Basang Cering, Party chief in Zhaxigang Village of Lunang Township, told Xinhua that he can not stand still in his house when the quake struck. Six houses in his village had damages from the jolt.
Sources with the regional power grid said the power grids of both Tibet and Nyingchi are operating normally, though it had launched an emergency response mechanism.
The regional earth bureau has sent emergency response staff to investigate the disaster situation.