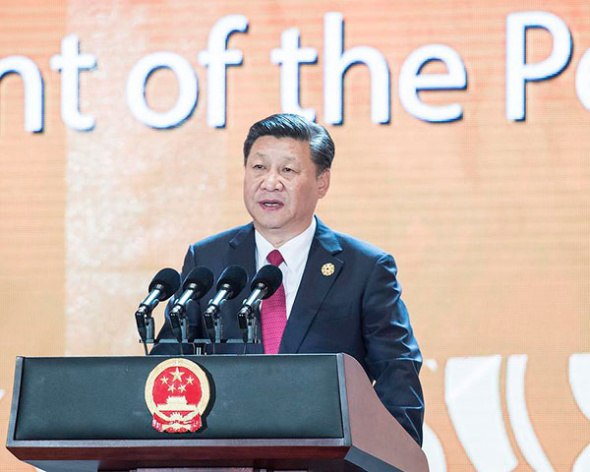 President Xi Jinping delivers a keynote speech at the Asia-Pacific Economic Cooperation (APEC) CEO Summit in Da Nang, Vietnam, Nov 10, 2017.(Photo/Xinhua)
The phrase "building a community with a shared future for mankind," a concept constantly mentioned by Chinese President Xi Jinping both at home and abroad, not only shows China's wisdom in global governance, but also its determination to work for an equal, open and peaceful world. [Special coverage]
Xi reiterated such vision and commitment on the world stage in his latest remarks to the 25th Asia-Pacific Economic Cooperation (APEC) Economic Leaders' Meeting, as well as on his state visits to Vietnam and Laos.
The president encouraged the leaders of APEC members to join China to pursue multilateralism and shared growth through consultation and collaboration, and to forge closer partnerships.
China understands that actions speak louder than words, and cooperation and partnership have been the key words in China's foreign policy for a long time.
Last week, during U.S. President Donald Trump's visit to China, the two world powers signed contracts and investment agreements worth more than 250 billion U.S. dollars, a positive outcome for world trade and international stability.
On Nov. 1, China and Russia signed nearly 20 deals in areas including investment, energy and space exploration, after the 22nd regular meeting between the heads of government of the two countries in Beijing, the latest evidence of the comprehensive strategic partnership of coordination between China and Russia.
On Saturday in Vietnam, Xi called on APEC leaders to promote innovation as a strong growth driver, open up economies, pursue inclusive development, and enrich partnerships and deliver benefits to all involved.
China knows clearly that for any regional trade arrangement to gain broad support, it must be open, inclusive and beneficial to all.
An important way for China to encourage the building of a community with a shared future for mankind is to persistently advocate free trade, welcoming the world to benefit from, instead of being hurt by, China's rapid development.
The Belt and Road Initiative, which comprises the Silk Road Economic Belt and the 21st Century Maritime Silk Road, illustrates the philosophy and vision of a shared future for mankind.
Proposed by Xi in 2013, the initiative aims to build trade and infrastructure networks connecting Asia with Europe and Africa via overland and maritime routes.
The establishment of the Free Trade Area of the Asia-Pacific (FTAAP), which was launched at the 2014 APEC Economic Leaders' Meeting in Beijing, proves China's determination in pushing forward an open and integrated economy.
The FTAAP will add 2.4 trillion U.S. dollars to the global economy, according to the Pacific Economic Cooperation Council.
China's vision of building a community with a shared future for mankind on the basis of mutual benefits and win-win cooperation is different from the zero-sum game that used to dominant international relations.
"China will never seek hegemony or engage in expansion," said Xi while delivering a report to the 19th National Congress of the Communist Party of China last month.
Having been left behind, China is now taking the lead to transform the winner-takes-all game to an all-winners game.
On Monday, China proposed that the ASEAN leaders' meeting announce the start of consultations on the text of a Code of Conduct in the South China Sea to achieve a more peaceful and sustainable international order.
All parties involved believe that peace is mandatory for development, and sincere cooperation can boost shared economic growth.
As the world faces the rising risks of protectionism and unilateralism, China's commitment to building a community with a shared future for mankind has created new opportunities for the international community, especially underdeveloped and developing countries, to join hands and develop together.