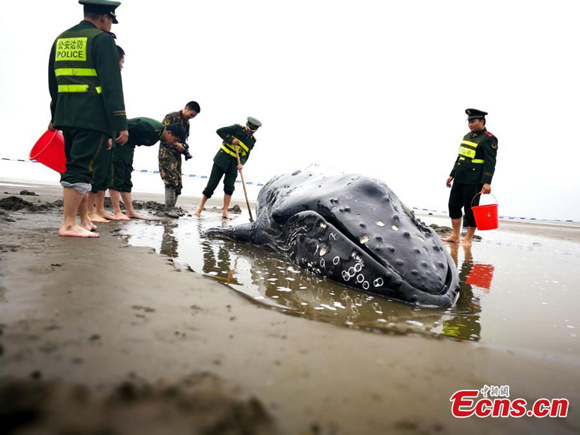 People help a humpback whale stranded at the beach in Qidong City, east China's Jiangsu Province, Nov. 13, 2017. The whale returned to the sea when the high tide came Monday afternoon. (Photo provided to China News Service)
A young humpback whale that beached itself in Qidong, east China's Jiangsu Province, died on Wednesday, after became stranded for a third time in three days.
The 7-meter long whale, 3 to 5 years old, was found stranded in shallow water and died after struggling for hours in a rising tide.
Local police and fishermen twice tried to rescue the whale after it was first discovered stranded at noon on Monday, with a boat sent to direct it toward deeper sea.
On Tuesday afternoon, the 2.8-tonne whale ran ashore again only 3 km away, and was again rescued.
Tang Jianhua of Jiangsu marine research institute, joined the rescue Monday, but predicted that the whale would not survive because there were "many scars on its body, new and old".
Xu Xinrong from Nanjing Normal University life sciences institute said he suspected the whale had a disease that caused it to lose its navigation ability.
Ding Hanming from the provincial fishery department said dead whale, currently at a deep-water wharf in Qidong, will be made into specimen for scientific research.