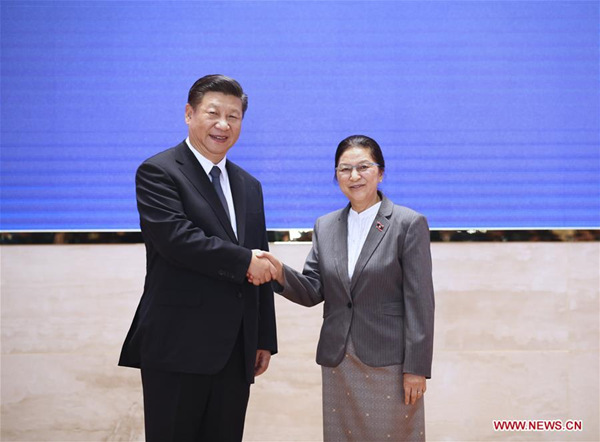 Chinese President Xi Jinping (L), also general secretary of the Communist Party of China Central Committee, shakes hands with President of the Lao National Assembly Pany Yathotu during their meeting in Vientiane, Laos, Nov. 14, 2017. (Xinhua/Lan Hongguang)
Chinese President Xi Jinping expressed the hope on Tuesday that the legislative bodies of China and Laos can step up exchanges to contribute to the good neighborly and friendly relations and all-round cooperation between the two countries. [Special coverage]
When meeting with President of the Lao National Assembly Pany Yathotou, Xi spoke highly of the work of the top Lao legislature in developing China-Laos relations.
The exchanges and cooperation between China's National People's Congress and the Lao National Assembly constitute an important component in the comprehensive strategic cooperation between the two countries, Xi said.
He said he hopes that the legislative bodies of the two sides can maintain the tradition of high-level contacts, learn from each other in state governance, development planning and legislation experience, and enhance coordination and cooperation on multilateral occasions, thus making new contributions to the building of socialist countries ruled by law and to the China-Laos relationship.
Xi called on the two sides to implement the new consensus reached between the party and state leaders of the two countries during his visit, and jointly build a community of shared future with strategic significance.
He also briefed Pany on China's experience in advancing the rule of law in a comprehensive way.
On her part, Pany said the Laos-China cooperation has made important contributions to the national development of Laos, and the Lao National Assembly will earnestly implement the consensus reached by the party and state leaders of the two countries and help deepen a long-term, stable development of the bilateral comprehensive strategic partnership of cooperation.
The Lao National Assembly is committed to strengthening the exchanges and cooperation with China's National People's Congress, she added.