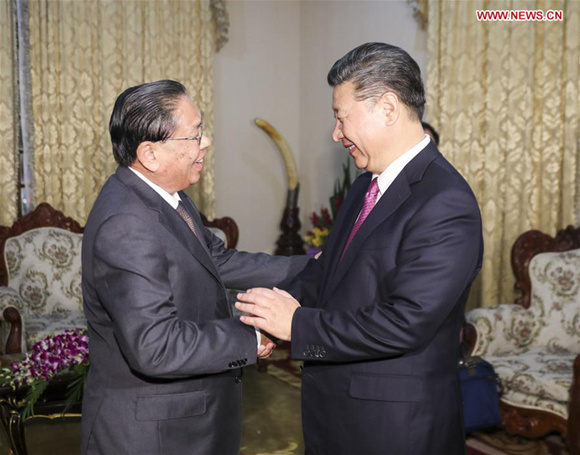 Chinese President Xi Jinping (R), also general secretary of the Communist Party of China Central Committee, meets with former Lao President Choummaly Saygnasone, also former general secretary of the Lao People's Revolutionary Party (LPRP) Central Committee, in Vientiane, Laos, Nov. 13, 2017. (Xinhua/Ding Lin)
Visiting Chinese President Xi Jinping, also general secretary of the Communist Party of China (CPC) Central Committee, met Monday with former Lao President Choummaly Saygnasone, also former general secretary of the Lao People's Revolutionary Party (LPRP) Central Committee. [Special coverage]
Xi spoke highly of the significant contributions made by Choummaly over the past decade in promoting a leap-forward development in China-Laos relations, cementing their traditional friendship and boosting bilateral cooperation in all areas when he served as the top party and state leader of Laos.
He said the 19th CPC National Congress held last month has produced important outcomes that can help build a new type of international relations and a China-Laos community of shared future with strategic importance, and his visit is aimed at lifting the bilateral relations to a new high.
He expressed the hope that Choummaly will continue to support the development of the China-Laos relations and play a role in ensuring that the bilateral ties always travel along the right track.
Choummaly extended his congratulations on the historic outcomes achieved at the 19th CPC National Congress, especially the inclusion of Xi Jinping Thought on Socialism with Chinese Characteristics for a New Era into the CPC Constitution.
He hailed Xi an old friend of the Lao people, saying that Xi's state visit bears historic significance in the history of Laos-China relationship.
China is a friendly neighbor of Laos and plays an important role in international affairs, Choummaly said, adding that Laos is committed to promoting the exchanges and cooperation between the two parties and two countries, and deepening the bilateral comprehensive strategic partnership of cooperation.
Bounnhang Vorachit, general secretary of the LPRP Central Committee and president of Laos, attended the meeting, along with some senior party and government officials from both sides.