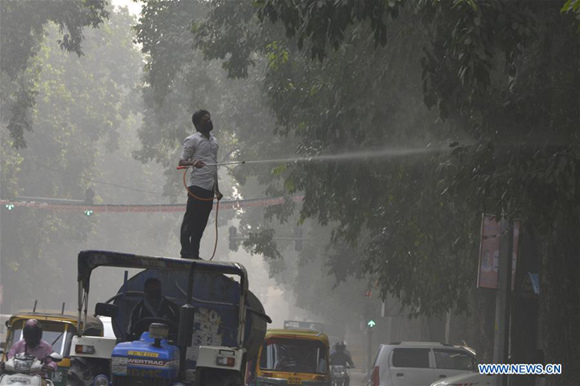 A municipal worker sprays water on the tree to settle dust as a measure against ongoing heavy pollution in the air in New Delhi, India on Nov. 9, 2017.(Xinhua/Sarkar)
India is overtaking China as the world's largest emitter of human-caused sulphur dioxide (SO2), a toxic air pollutant that causes haze and acid rain, a new study based on satellite data showed Thursday.
Emissions in China have declined by 75 percent since 2007 while those in India have increased by 50 percent, according to the study published in the latest edition of journal Scientific Reports.
OPPOSITE TRAJECTORIES
"The rapid decrease of SO2 emissions in China far exceeds our expectations and projections," first author Can Li, an associate research scientist at the University of Maryland, told Xinhua.
Li and colleagues examined data from the U.S. space agency NASA's Aura spacecraft to study SO2 pollution changes in China and India from 2005 to 2016, with results verified by aircraft measurements.
The emissions from China, it showed, peaked at about 37 megatons in 2007, and have since been on a generally decreasing trajectory.
At 8.4 megatons in 2016, the level was just 26 percent of that in 2005, the study said.
Previously published studies, which relied on inventory data and published policies, projected that China's sulfur dioxide emissions would not fall to current levels until 2030 at the earliest.
The estimated emissions for India, on the other hand, indicated relatively steady growth during the same period.
For 2016, the emissions from India were at about 11 megatons.
"This could be the first time in almost 20 years that a country is surpassing China in SO2 emissions," said Li, who is also a research associate at NASA's Goddard Space Flight Center.
CHINA'S EFFECTIVE POLLUTION CONTROLS
China and India are the world's top consumers of coal, which typically contains up to three percent sulfur.
Most of the two countries' sulfur dioxide emissions come from coal-fired power plants and coal-burning factories.
In particular, Beijing suffers from severe haze problems because of the many coal-burning factories and power plants located nearby and upwind.
Starting in the early 2000s, China began implementing policies such as fining polluters, setting emission reduction goals and lowering emissions limits.
According to the results of the current study, these efforts are paying off, though coal usage in the country increased by about 50 percent and electricity generation grew over 100 percent during the study period.
"The rate of the SO2 emission reduction in China is staggering, demonstrating how effective China's pollution control measures are," said Li.
By contrast, the emissions from India, which has yet to implement emission controls like China, increased by 50 percent over the past decade.
"Right now, India's increased sulfur dioxide emissions are not causing as many haze problems as they do in China because the largest emission sources are not in the most densely populated area of India," Li said. "However, as demand for electricity grows in India, the impact may worsen."
MORE EFFORTS NEEDED
Despite the large drop in SO2 emissions, haze remains a severe environmental issue in China.
"The persistent haze events in China indicate that other species, in addition to SO2, need to be controlled," Renyi Zhang, an atmospheric science professor at Texas A&M University, who was not involved in the study, told Xinhua.
"Those compounds include volatile organic compounds (VOCs), nitrogen oxides (NOx), and ammonia (NH3), which have been demonstrated to contribute importantly to the major constituents in (forming haze)," said Zhang.
Since VOCs and NOx have major sources in traffic, while ammonia is mainly from agricultural activities, Zhang said "the traffic and agricultural emissions would need to be focused on in China."
Another expert, Qiang Zhang, a professor of atmospheric sciences at Tsinghua University in Beijing, called the study "very significant."
"The ultimate goal of air quality improvement would be reached as the result of coordinated multi-pollutant emission reductions," Zhang said.
"In the future, we should pay more attention to NOx and VOCs emission reductions while effective SO2 control should be continued."