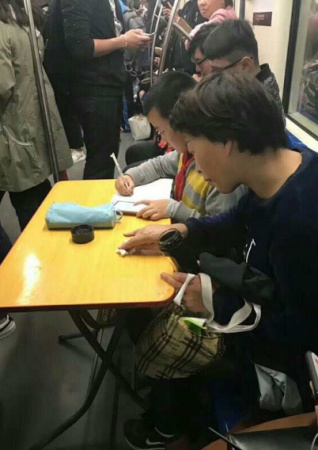 A video clip showing an elementary school student doing his homework on a Shanghai subway carriage recently triggered public debate.
It can be seen from the video that the boy is sitting on a seat in the subway carriage and doing his homework on a small desk in front of him. Though the train shakes every now and then, he always concentrates on studying.
Some people hailed the boy for his hardworking spirit, while others complained that the desk occupies too much public space and would affect others.
A woman who claimed to be the elder sister of the boy explained on micro-blogging website Sina Weibo that the desk was not taken onto the carriage on purpose and her brother just happened to take it back home.
"My brother just wanted to finish his homework early so he could hang out with his friends," she wrote.
In addition, children's heavy homework load also became a hot topic.
Some netizens said that elementary students rarely have an opportunity to play, and their backpacks have turned into trolley cases because of the heavy load.
Education expert Ji Dahai said that doing homework on the subway is not good for children's health because of the noisy and shaky environment.
In addition, he thinks that teachers should assign moderate tasks to students and improve their education methods.
"Parents should also guide their children to properly arrange their time so that homework and play time don't get mixed" he added.