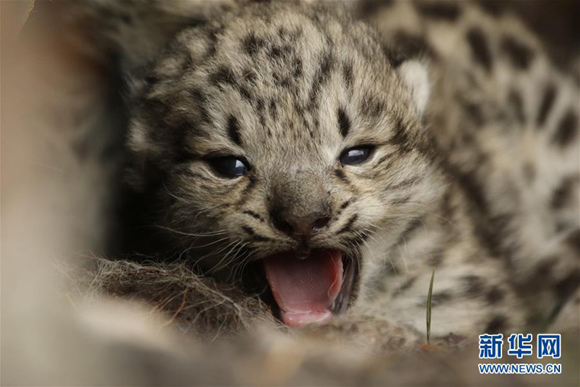 Photo taken on June 16, 2017 shows a snow leopard cub in bushes in Gaduo Township of Chengduo County under Yushu Tibetan Autonomous Prefecture, northwest China's Qinghai Province.(Xinhua/Jiangyong Tudeng)
The mountain cat's status has been upgraded in the world from 'endangered' to 'vulnerable', but its future remains uncertain, as Cui Jia reports from Urumqi, Xinjiang Uygur autonomous region, with Yang Yang in Yushu, Qinghai.
When Huang Yahui saw a snow leopard sitting in the snow-covered Tianshan Mountains in the Xinjiang Uygur autonomous region, glancing down at her like an emperor trying to decide if the unexpected guest was actually worth his valuable time, she suddenly understood why the big cat is known as the "king of the snowy mountains".
About 90 seconds later, the snow leopard turned and vanished. He was obviously not interested in Huang or the other volunteers from Wilderness Xinjiang, an NGO based in Urumqi, the regional capital, which monitors local wildlife, especially the famously elusive snow leopards which are gradually becoming less mysterious to Chinese naturalists.
In recent years, a growing number of these big cats have been captured on film as camera traps have been set up in habitats around the country by volunteers from several different NGOs.
The hope is that the entire ecosystem will benefit from greater protection of this flagship species which is becoming increasingly popular, as evidenced by the animal's co-starring role with pandas and golden monkeys in the Disneynature documentary Born in China, which premiered in August last year.
Despite their growing exposure, it is still unusual to encounter a snow leopard in the wild. Huang never fails to experience feelings of unreality when she views footage of the magical meeting in January 2015.
Close neighbors
"What shocked me most at the time was that we saw him just 60 kilometers from downtown Urumqi. We didn't know they lived so close to us," the 33-year-old said.
Since 2014, with help from the local forestry department and partner NGOs, Wilderness Xinjiang has installed 100 camera traps across an area of 300 square kilometers in the mountains south of Urumqi.
Footage from the cameras has enabled the team to identify 27 snow leopards based on the unique patterns on their fur. They estimate that more than 100 snow leopards are living near Urumqi. The motion-triggered cameras have captured a female teaching her cubs how to hunt and the cubs' attempts to play with the equipment.
The density of snow leopards in the Tianshan Mountains is much higher than on the Qinghai-Tibet Plateau - the animal's best-known habitat in China - but their home ranges are relatively smaller, according to Huang.
The big cat hadn't been seen in the area since the 1960s until one triggered a camera set up by Wilderness Xinjiang in the mountains near Urumqi in 2014. News of the sighting spread quickly because people couldn't believe the mountain's dominant predators were living so close to their favorite weekend barbecue spots.
"I think they have always been there. We just didn't look for them," Huang said. The cameras also captured images of ibexes - a major prey species of the big cats that are built to hunt in the mountains.
Snow leopards have short, strong front limbs and longer hind limbs, which help them to cover about 10 meters in a single leap. Their extra-long tails help the cats to maintain balance and also provide extra warmth when wrapped around the body.
Listed as a Class A protected species in China, snow leopards can mainly be seen in high-altitude areas in the provinces of Qinghai, Gansu and Sichuan, plus the Xinjiang, Ningxia Hui and Tibet autonomous regions. China is also home to as much as 60 percent of the world's snow leopard habitats.