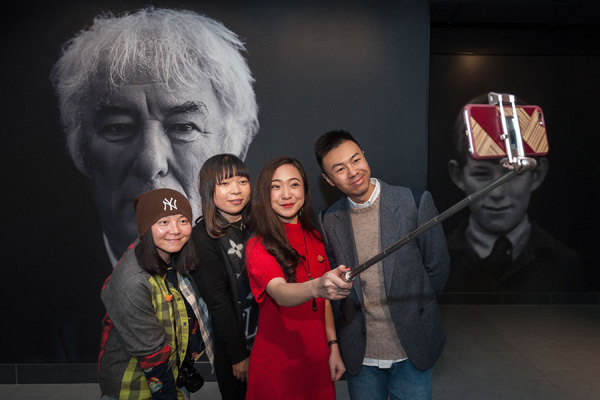 A group of Chinese bloggers visit the newly opened centre for an Irish Nobel Prize laureate Seamus Heaney. (Photo provided to chinadaily.com.cn)
Digital marketing is attracting a new generation of Chinese travelers to the United Kingdom, Ireland, and the rest of Europe, according to tourism officials.
In the past, many Chinese tourists traveled in large tour groups, often on a coach and with a strict schedule. But the next generation of travelers is more independent and people are increasingly designing their own itineraries.
Tourism organizations have responded by re-focusing their marketing strategies and using social media campaigns and digital channels to reach their new audience.
Robert Li, director of the U.S.-Asia Center for Tourism and Hospitality Management at Philadelphia's Temple University, said: "This is consistent with the overall trend in advertising, where, these days, advertisers increasingly invest more in digital media in general, and social media in particular."
Chinese tourists are relatively young and have been quick to adapt to new technology, Li added.
"China has leapfrogged many other countries in terms of digital technology developments, which prepared a generation of consumers who are more 'digital-ready'," he said.
Tourism Ireland, the tourism body that promotes the Republic of Ireland and Northern Ireland, invited a group of Chinese bloggers to visit last year. They experienced such things as the Northern Ireland Year of Food, Game of Thrones attractions, and a newly opened center honoring playwright Seamus Heaney, the recipient of the 1995 Nobel Prize in Literature.
James Kenny, Tourism Ireland's China manager, said the digital strategies it implemented are reaping dividends.
In 2016, 135 million Chinese people traveled overseas, more than from any other nation. They spent more than $260 billion on their travels, according to the World Tourism Organization.
Chinese travelers are believed to be heavily influenced by key opinion leaders and Glenda Rochead, consumer public relations manager at VisitScotland, said the organization has responded by inviting Chinese opinion leaders to visit, so their online followers can hear about it.
"So far this year, Scotland has welcomed two Chinese influencers, Nicki and KK, and 1.6 million Chinese people tuned in to their livestreams in Edinburgh," she said.
The Austrian city of Innsbruck, which is in a broad valley surrounded by high mountains has tried a similar approach.
Peter Unsinn, the local tourism board's marketing manager, said the city invited Chinese actors from a popular TV show to visit. The actors have several million social media followers.
"Through this campaign, we have received more than 50 million views about our city, its history and the activities we offer," Unsinn said.
Oliver Sedlinger, an international tourism consultant at Sedlinger and Associates, said new media is affordable and is quick to adapt to new developments.
"New media has a technical advantage; they are more mobile, can produce content faster and cheaper, and can react quicker to feedback," he said. "Digital content is also quite convenient, since it stays available at your fingertips at any time."