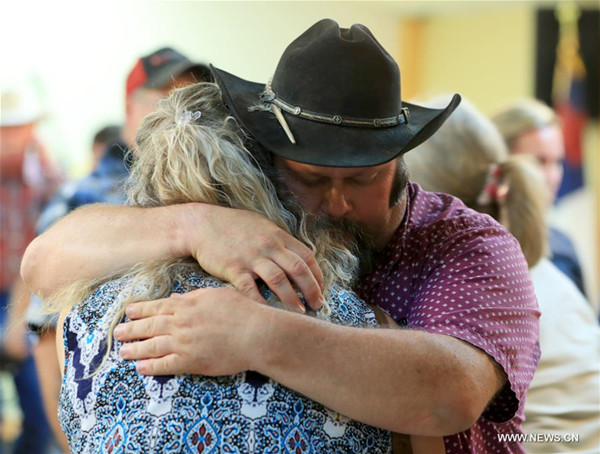 A memorial service is held for the victims of a mass shooting in Sutherland Springs of the U.S. state of Texas Nov. 6, 2017. At least 26 people were killed and many others wounded in Texas' deadliest shooting Sunday morning at a church in Sutherland Springs. (Xinhua/Li Ying)
The worst mass shooting in the southern U.S. state of Texas, which claimed 26 lives on Sunday, could have been prevented, but it wasn't due to an apparent management mistake by the U.S. Air Force.
The Air Force's failure to notify federal law enforcement about the violent actions of Devin Kelley, the killer, during his service allowed the former service member to obtain firearms, which would have otherwise been prevented, an Air Force spokesperson said Monday.
Kelley, who was sentenced to a year in prison on domestic violence charges while serving at the Holloman Air Force Base in the southwestern U.S. state of New Mexico in 2012, was given a bad conduct discharge from the Air Force in 2014.
Had Kelley's history been made known to federal law enforcement according to procedure, he would have been barred from purchasing firearms and body armor, which he may have used in the shooting spree at a church in Sutherland Springs.
"Initial information indicates that Kelley's domestic violence offense was not entered into the National Criminal Information Center database," Ann Stefanek, the spokesperson, said in a statement.
According to a 1998 U.S. Department of Defense (DOD) guideline, when armed forces members commit one in a list of unlawful actions, the DOD criminal investigation arm shall submit to the Federal Bureau of Investigation the offender's criminal history data.
Domestic violence is typically categorized under assault, which is among the listed offenses.
If federal law enforcement agencies had learned of Kelly's past, his purchase of firearms would have been flagged, experts say.
Academy Sports + Outdoors, a gun retailer which confirmed Kelley's purchase of arms from their store, said the former serviceman had cleared all federal background checks on two instances this year and the last.
Kelley used a Ruger semi-automatic rifle to carry out his attack, according to authorities. It is unclear if the weapon was purchased at the aforementioned establishment.
Geoffrey Corn, a former Army lawyer and professor at the South Texas College of Law, said failing to report Kelley's records to federal agencies reflected a confusion within the Air Force and other military branches.
The Air Force may only have been reporting the records of those who received dishonorable discharge, a heavier punishment of Kelley's bad conduct discharge.
Dishonorable discharge and bad conduct discharge are both punitive types of discharges given to those found guilty of an unlawful act by a court martial.
Dishonorable discharge is usually given to those who have committed serious crimes, such as desertion, sexual assault or murder.
Sky Gerrond, a veteran in military law enforcement, said a dishonorable discharge may have been more appropriate for Kelley's offences.
Another concern is that law enforcement within the military lacks oversight from the outside, according to Corn.
"Either the DOD is reporting these convictions, or they're not. How is the federal statute going to be effectively implemented if they aren't reporting these convictions?" Corn said.
Following the Air Force's statement, both the force and the Pentagon have announced a probe into the matter.
"The Department of Defense has requested the DOD Inspector General in concert with the Air Force to review the handling of criminal records in the case of former Airman Devin P. Kelley after his 2012 domestic convictions," the Pentagon said in a statement.
The Pentagon said it will also look into "whether information about Kelley's conviction was properly entered into the National Criminal Information Center database" and will review "relevant policies and procedures to ensure records from other cases across DOD have been reported correctly."