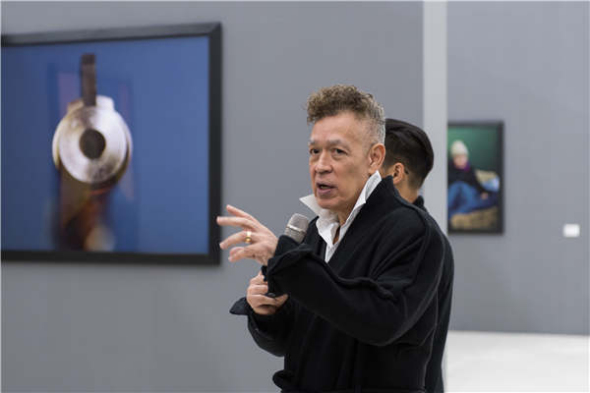 U.S. artist Andres Serrano (Photo provided to China Daily)
What does the phrase "Made in China" represent? U.S. artist Andres Serrano tries to give an answer with a distinctly red hue in An American Perspective, his first solo show in China, which features his most recent Made in China series.
The show, which opened on Saturday at the Red Brick Art Museum, a private museum in Beijing, presents 53 large-format photographs and video works from his 16 major series, including a portrait of U.S. President Donald Trump, shot in 2004, as part of his America series.
The New York-based artist spent about half a month in Beijing this summer producing his Made in China series, in which he shot portraits of Chinese people from all walks of life dressed in wedding gowns.
"The individuals in my works are visual symbols that I use to explore identity and cultural diversity. The wedding gowns refer to China's tradition, love and marriage, and the country's glorious past," says Serrano, adding that he has Chinese blood because his great great-grandfather was Cuban-Chinese.
He invited newly-married couples, waitresses, cooks, villagers, street cleaners, single men and women, and divorced people of different ages and social backgrounds to take part in his work on Chinese marriage.
U.S. artist Andres Serrano is showing his Made in China series in Beijing, including a portrait of an 84-year-old woman in a red wedding gown. (Photo provided to China Daily)
All the 36 people who posed for him were dressed in traditional red Chinese wedding costumes. Serrano explains that the gowns allowed him to find the dignity and character of the models, who were all carefully selected. He dressed an 84-year-old woman in magnificent wedding attire, whom he says he "treated like a queen". He met her in a village near where he was staying.
"I tried to find people who have worked hard all their lives. They have a unique character which you can see in their faces," Serrano explains of his attraction to people from different walks of life.
Yan Shijie, founder of the Red Brick Art Museum, invited Serrano to join the museum's artistic residency project. He says due to the limited time Serrano had in Beijing, the artist wasn't able to explore the subject more deeply. This meant that Serrano was only able to present his Made in China series while keeping a certain distance from the country.
However, Yan says Serrano's other works on display offer Chinese audiences a glimpse into U.S. society from a U.S. perspective.
The bulk of Serrano's works are portraits, and many of the works in this exhibition are taken from his America series, which include photos of 115 Americans he shot after the Sept 11, 2001, terror attacks. He took photos of all kinds of people, including firefighters, soldiers, homeless people, celebrities, stars and the rich.
And the current U.S. President Donald Trump was then his model in 2004.
A portrait of U.S. President Donald Trump is part of Serrano's America series on display in Beijing. (Photo provided to China Daily)
"In 2004, Donald Trump was Donald Trump: a celebrity, a successful businessman, a TV star. I didn't predict that he would become president. But I saw in him what America is for me. Many years later, people saw the same thing," he says.
In that series, he also shot many other celebrities, such as Yoko Ono and Arthur Miller. Serrano is known for works that direct his audiences' thoughts toward our standards of value judgments.
Talking about his most recent series Made in China, Serrano says its title is meant to be taken literally. Although the phrase can sometimes evoke negative connotations, he regards it as a positive label.
"China represents the future of the world's economic and cultural development," he adds.
The artist regrets that his stay in China was so short and hopes to return. For him, the country is "like a universe that needs a lifetime to explore".
If you go
10 a.m.-6 p.m., through Feb. 25. Red Brick Art Museum, Hegezhuang, Cuigezhuang village, Chaoyang district, Beijing.