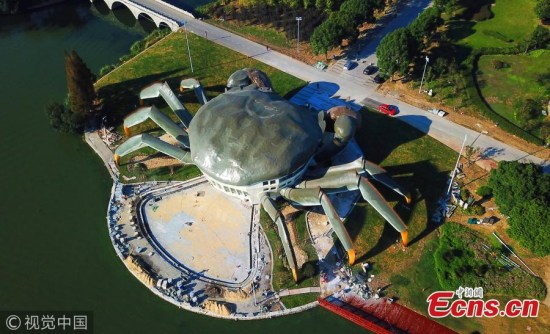 A building with its appearance looking as a hairy crab is seen on bank of Yangcheng Lake in Kunshan city, East China's Jiangsu province on October 31, 2017. (Photo/VCG)
An eye-popping, gigantic building in the exact shape of a hairy crab is being constructed on the shore of Yangcheng Lake, known for its tasty and pricy crabs, in eastern China's Jiangsu Province.
The stainless steel three-storey building stands 75 meters long and 16 meters high, making it around 1,000 times bigger than a real crab.
The building will be used as a commercial complex, contains leisure and entertainment facilities, restaurants and stores, according to Zhao Jianlin, general manager with Baxieyuan Management Company, which is building the "super crab."
Zhao said that construction began in March, and the crab-shaped building was expected to open in the second half of next year in the city of Kunshan.
"This building can help demonstrate the crab culture and history of Bacheng township," he said. Bacheng is a township on the shore of the lake.
Every year, Yangcheng Lake sees a catch of more than 2,000 tonnes of Chinese mitten crabs, an autumn delicacy in China.
The size of a human fist, Chinese mitten crabs generally live in fresh waters in eastern provinces of Jiangsu and Zhejiang.
Yangcheng Lake crabs are regarded as a luxury by Chinese, with the price of a single crab reaching more than 80 yuan (around 12 U.S. dollars).