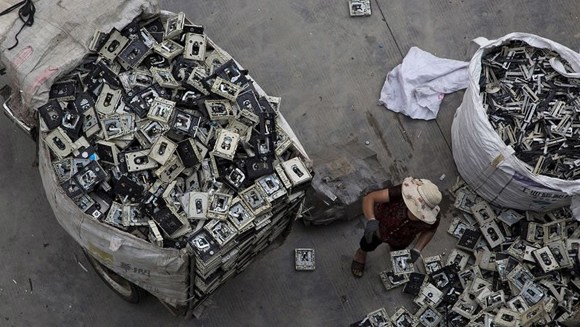 (Photo/CGTN)
As tech giants work to out-innovate each other by creating better, faster and more novel products, they leave behind a trail of electronic waste for the global community to deal with.
In a recent report by Greenpeace, 17 of the world's largest device brands are evaluated against their efforts to curb their carbon footprint, with many not making the grade.
Focused on three impact areas – renewable energy, resource consumption and usage of harmful chemicals, the report isolates the manufacturing process as the starting place for meaningful environmental change. Though brands like Apple, Fairphone and HP fared okay across all three areas, most were challenged to do more to address e-waste.
E-waste: A growing global problem
According to the United Nations University's StEP (Solving the E-waste Problem) Initiative, worldwide e-waste volumes are expected to surpass 65 million tonnes in 2017.
China's Ministry of Industry and Information Technology estimated in 2015 that the country alone produced 6.1 million tonnes, second only to the United States.
Though e-waste has been an issue for decades, the speed at which new electronic devices are being brought to market is fueling a cycle of purchase and disposal. New devices beget more electronics in landfills.
One contributor is consumerism, another is planned obsolescence – a process where tech companies deliberately create devices that cannot easily be repaired or updating operating systems that are incompatible with older devices, thereby making it necessary to buy the latest gadgets.
The issue has global environmental consequences, both in the aftermath of e-waste disposal and in the manufacturing of the devices themselves.
Because e-waste contains toxic materials such as mercury, lead and brominated flame retardants, it requires special handling. According to the UN's environmental agency, only about 10 to 40 percent of e-waste is properly recycled and disposed of. Many countries like the US and China regulate how the waste gets recycled but in others, it ends up in landfills or is processed improperly, with the potential to pollute the air, water, and soil.
Even before these devices reach the market, the manufacturing process itself does environmental damage. Greenpeace estimates that 70 to 80 percent of greenhouse gas emissions in the lifespan of personal computing devices occurs during that stage. Most of the manufacturing supply chain is still powered by coal, and smartphones are highly resource-intensive, leading to the depletion of natural resources like cobalt, tin and tungsten.
A call for tech companies to do better
Focusing primarily on the manufacturing process, the Greenpeace report based its grades on transparency, commitment, performance and advocacy efforts in the three areas of energy, resources and chemicals. Fairphone and Apple topped the list with overall grades of "B" and four found themselves at the bottom, among them Amazon and Xiaomi. None of the companies responded to requests for comments.
Though the grades can be useful for understanding the current state of the problem, the report's ultimate goal is to impact change, encouraging the "tech sector to reinvent the way that electronic devices are made and used in society."
Rethinking the supply chain is a major theme throughout the report. Very few companies are manufacturing their devices using renewable energy, with most not publishing any information at all about the energy use of their suppliers. Among companies on the list, Apple is the first to commit to be 100 percent powered by renewable energy in its supply chain. HP has worked with its suppliers to set reduction targets. Now that the goal has been proved possible, other companies can follow this lead.
Mirroring the trend in other industries, recyclability can make a significant environmental impact. Greenpeace defines recyclability as "both incorporating more recycled materials in place of virgin materials, and also designing products to be more easily recycled at end of life." Plastics, copper and tungsten can all be recovered and reused in producing new devices.
Device-maker Fairphone published a report this year that found that modular designs can make it easier for the recovery and reuse of parts in electronic devices.
Last year,16 global electronics companies committed to phase out two hazardous chemicals – brominated flame retardants (BFRs) and polyvinyl chloride (PVC) plastic – from products within a reasonable timeline. To date, only Apple and Google have lived up to this commitment. Greenpeace has called for the rest to follow suit.
While progress has been made in some areas, the report leaves tech companies and consumers alike with ways to help lessen the impact that e-waste is having on the environment.