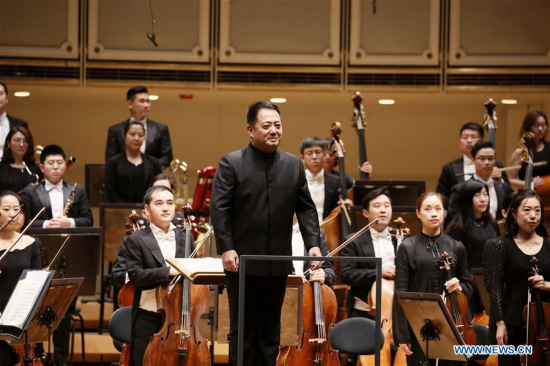 Lu Jia, music director and chief conductor of the Performing Arts (NCPA) Orchestra greets the audience at the Symphony Center in Chicago, the United States, Oct. 28, 2017. A sold-out concert performed here Saturday by China NCPA Orchestra caught the attention of the whole audience by showcasing a unique combination of Western and Chinese music.(Xinhua/Wang Ping)
The audience so enthusiastically greeted Wu's performance that she had to return to the stage with an encore of "White Snow in Spring," a famous traditional pipa score that enabled her to demonstrate more playing skills.
"We carefully selected from Chinese music that spans over half a century," said Patrick Ren, managing director of China NCPA Orchestra. "We are staging our performances at the best venues in the United States for this tour."
Chicago is the first leg of the current tour of the NCPA Orchestra. The orchestra will make its debut at Carnegie Hall in New York City, and will stop by in Philadelphia, San Francisco and Chapel Hill.
Besides the repertoire in Chicago, the orchestra will perform Chen Qigang's "Reflect d'un temps disparu" and Yin Chengzong and Chu Wanghua's Piano Concerto "Yellow River" in other cities.
The concert concluded with Johannes Brahms' Symphony No. 4 in E minor with two more encores, and finished with Bao Yuankai's familiar tune of "Bamboo Melody."
"This is my first time to hear pipa," said Jordi Pedrola, "It feels very natural and harmonious, generating a very positive emotion."
"I'm very impressed by the musicians' skills," said Joseph Mastron, a graduate student at the University of Chicago, "The performance was wonderful and I very much enjoyed it."
This is the second time that China NCPA Orchestra has staged at the same venue. In 2014, it made its debut tour in North America at the Symphony Center, which has 2,000 seats.
"Different from three years ago, our musicians are much more experienced and our repertoire much larger," Lu told Xinhua.