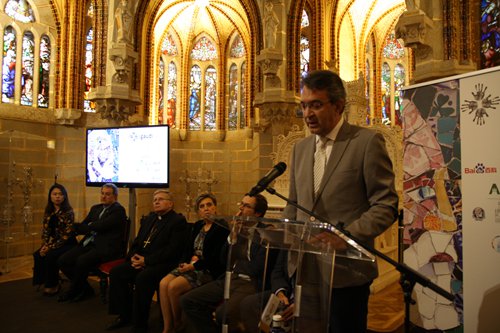 Jin Xiaping (far left) attends Baidu's press conference at the Episcopal Palace of Astorga in Spain on October 19. (Photo/Courtesy of Baidu Baike)
Baidu to launch the world's first digital museum dedicated to Spanish architect Antoni Gaudí
Interested in examining every brick and curve of Spanish architect Antoni Gaudí's Sagrada Família church and Casa Milà building without actually flying to Spain? The launch of the first ever Gaudí online museum may soon make this a reality.
At a press conference held last week at the Gaudí-designed Episcopal Palace of Astorga in Spain, Baidu Baike, the online Chinese-language collaborative encyclopedia platform owned by China's Internet giant Baidu Inc, announced that it would be launching the world's first digital museum of Gaudí's works in November. The project is being completed with the cooperation of the China-based Gaudí Asia-Pacific Research Institute and the Gaudí World Congress, the five-year-old annual session co-founded by the Gaudí Research Institute.
Tour online
Also Baidu Baike's first overseas digital museum project, the platform's online Gaudí museum will showcase the master's works and designs as well as old photos and research papers using modern technology such as AI, VR, videos and 360-degree photos. Visitors can examine buildings in detail by taking a virtual tour while listening as international Gaudí experts introduce the history and culture behind each work.
So far, the project team has finished documenting the Sagrada Família church, which became a UNESCO World Heritage Site in 2005. The team is currently working to record and digitize many of the architect's other works.
While the combination of VR, 360-degree photos and videos is nothing new, as museums worldwide have launched similar online tours, the application of AI technology seems to be a fresh concept.
"Baidu's AI technologies include image recognition technology and Augmented Reality (AR)," Jin Xiaping, director of Baidu Baike's digital museum project, told the Global Times on Tuesday.
"We plan to also apply these technologies to real life tours in order to increase visitor participation and enhance their experience when they visit our partner museums," she said.
According to Jin, Baidu Baike's first edition of the Gaudí digital museum will be launched in Chinese, including the audio recordings. Jin hinted at the possibility of other language versions, as the platform's overseas projects expand.
Digitization wave
Since starting out in 2012, the Baidu Baike digital museum platform has produced 360-degree virtual tours to more than 220 Chinese museums, including Emperor Qin Shi Huang's Mausoleum Site Museum in Northwest China's Shaanxi Province where the world-renowned terracotta army can be found.
The platform also provides visual records of collections from 1,615 museums across China, including Beijing's National Museum of China and the Yungang Grottoes Museum located in North China's Shanxi Province.
Digitalization of museums and art seems to have become a global trend in recent years as Internet companies, such as Google, have also been busy expanding their digital art projects. Launched in 2011, Google Arts & Culture (formerly known as the Google Art Project) has cooperated with museums around the world to put high definition photos of their collections online and worked with "more than 440 museums worldwide" -US-based technology news platform Techcrunch reported in May - to incorporate the platform's street view feature, which provides a 360-degree inside and outside views of museums.
With the number of views reaching around 67 million so far, the Baidu Baike digital museum platform is currently still focusing more on Chinese-speaking netizens, Jin said. She noted that the platform provides more complete coverage of Chinese museums than Google's project, which includes just a dozen of local museums in China. With the Gaudí project as a starting point, the platform is preparing to expand further out into the world.
"After introducing more overseas museums to our platform, we will launch multi-language versions, not only of our overseas projects, but also local projects," Jin told the Global Times.