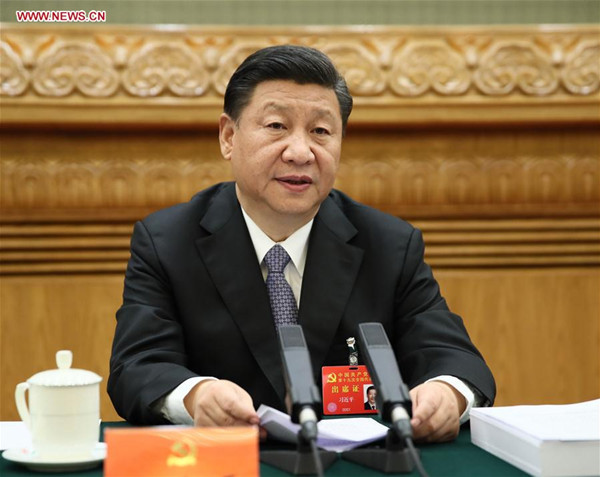 Xi Jinping presides over the fourth meeting of the presidium of the 19th National Congress of the Communist Party of China (CPC) at the Great Hall of the People in Beijing, capital of China, Oct. 23, 2017. (Xinhua/Lan Hongguang)
At least 8 percent of nominees for candidates for members and alternate members of the 19th Central Committee of the Communist Party of China (CPC) and candidates for members of the Central Commission for Discipline Inspection (CCDI) have been voted off in preliminary elections in the past days. [Special Coverage]
The draft name lists of candidates for members and alternate members of the new CPC Central Committee and candidates for members of the new CCDI were approved at the third and fourth meetings of the presidium of the 19th CPC National Congress on Sunday evening and Monday morning.
At the presidium meetings presided over by Xi Jinping, a decision was made to submit the draft name lists to the delegations to the Party congress for consideration.
Delegates held that the name lists were formed on the basis of full intra-Party democracy. The overall structure of the lists is reasonable and the candidates have fine ethical and political quality, outstanding work performance and high public support.
The preliminary elections were conducted under the supervision of scrutineers in accordance with the election methods adopted at the congress. The results of the preliminary elections are valid, according to the presidium.
Members and alternate members of the new CPC Central Committee and members of the new CCDI will be elected at the closing meeting of the Party congress Tuesday morning.
The CPC adopted a preliminary election system at its eighth national congress in 1956. At the 13th national congress in 1987, it began to follow a competitive election system at preliminary elections.
The elimination margins at preliminary elections for candidates for members of the 16th Central Committee and the 16th CCDI, conducted in 2002, were about 5 percent. The ratios exceeded 8 percent at the 17th congress in 2007 and the 18th congress in 2012.