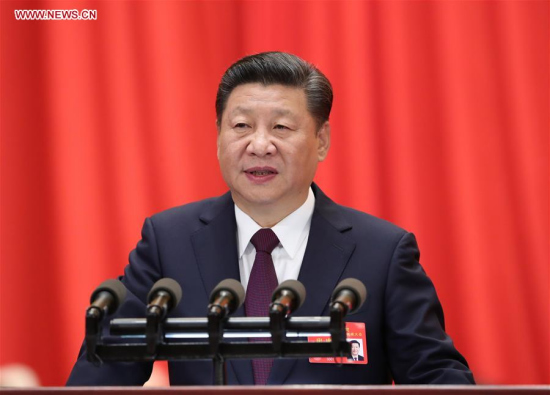 Xi Jinping delivers a report to the 19th National Congress of the Communist Party of China (CPC) on behalf of the 18th Central Committee of the CPC at the Great Hall of the People in Beijing, capital of China, Oct. 18, 2017. The CPC opened the 19th National Congress at the Great Hall of the People Wednesday morning. (Xinhua/Ma Zhancheng)
The Communist Party of China (CPC) has vowed to satisfy the people's desire for "a better life" and written the idea into a key political document, as the latest assertion of the Party's people-centered approach.[Special Coverage]
The Chinese phrase "mei hao sheng huo", which can be translated as "a better life" or "a happy life", appeared 14 times, including in both the opening section and the last paragraph, in a report given by Xi Jinping on Wednesday at the opening of the 19th CPC National Congress.
The report at the five-yearly congress is considered the most important political speech in China.
This year's report said socialism with Chinese characteristics has entered a new era, and it draws up a two-stage development plan to build China into a "great modern socialist country" by mid-21st century, around the centennial of the founding of the People's Republic of China.
One of the key messages from Xi's report, a verdict on the principal issue facing Chinese society, has the word in it.
"What we now face is the contradiction between unbalanced and inadequate development and the people's ever-growing needs for a better life," Xi told more than 2,300 delegates from all walks of life attending the congress.
The needs to be met for the people to live a better life are increasingly broad, according to Xi.
Not only have their material and cultural needs grown, their demands for democracy, rule of law, fairness and justice, security, and a better environment are also increasing, he said.
It is not the first time that Xi has used the word "mei hao sheng huo."
"To meet the people's desire for a happy life is our mission," Xi said when meeting the press after being elected general secretary of the CPC Central Committee in late 2012.
Xi's statement was chimed later by the CPC's repeated pledge for a "people-centered approach", which is in line with the Party's fundamental purpose of wholeheartedly serving the people.
Also five years ago, the residents' per capita income was added into China's economic growth target, but the Party is determined to take care of more than the people's material needs.
It invested enormous efforts over past years into eliminating poverty, creating jobs and combating pollution in the world's most populous nation.
More than 60 million people have been lifted out of poverty since 2012. During the same period, an average of over 13 million urban jobs were created each year.
A "Beautiful China" initiative has been launched. Xi's quote, "Lucid waters and lush mountains are invaluable assets," has struck home and been championed by many officials as well as ordinary people.
For years to come, the Party vows to develop socialist democracy, strengthen cultural soft power, continue to build a beautiful China, improve the people's well-being and develop new approaches to social governance.
The CPC has announced it aims to see that socialist modernization is basically realized by 2035, and to develop China into "a great modern socialist country that is prosperous, strong, democratic, culturally advanced, harmonious, and beautiful" by mid-21st century.
By the end of the second stage, China will be "a global leader in terms of composite national strength and international influence" and the Chinese people will "enjoy happier, safer, and healthier lives."