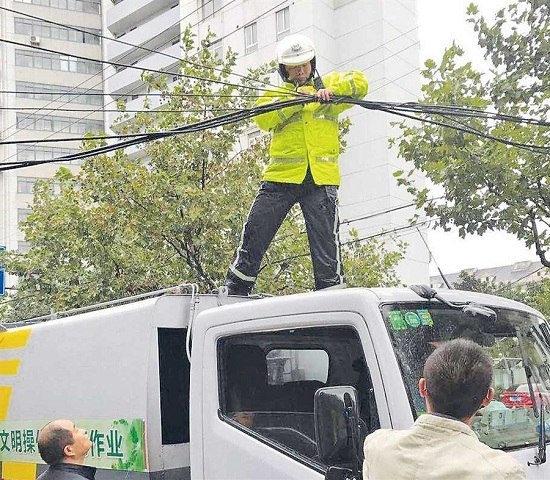 Police officer Yang Zhiguang climbs on a sanitation truck to make safe a loose cable at Pudong's Dezhou and Lingyan crossroads. (Ti Gong)
Due to the effect of typhoon Khanun as well as a cold front, Shanghai has been wet and damp for days.
It was raining cats and dogs in Pudong's southern areas. From 8am Sunday to 7am yesterday, rainfall reached 104.5 millimeters in Luchao Port and 93 millimeters in Lingang New City.
Shanghai's northern districts of Jiading, Baoshan and Jinshan were also drenched. Precipitation was recorded at 53.9 millimeters in Jiading.
Shanghai Meteorological Center issued a blue alert on Sunday. As the rain kept falling, all the city's flood-control departments took action to safeguard urban operations.
Communication cables at the Dezhou and Lingyan crossroads in the Pudong New Area were blown off by the wind yesterday during the morning peak traffic hours.
One cable at the crossroads was hanging in the air only 2 meters from the ground, posing an electrical hazard threat. Police officer Yang Zhiguang climbed on a sanitation truck to thrust the cable to a safe distance away from the ground.
More than 100 flood control and drainage teams and 80 pumping trucks were sent out citywide to prevent or deal with hazards.
Shanghai airport officials said the rainstorms had caused cancellations of six flights due to have departed from Pudong and one from Hongqiao airport on Monday.
Rain will linger until late tomorrow, but the good news is that the rainfall is starting to weaken, forecasters said, adding that the temperature will fluctuate from 17 to 21 degrees Celsius.