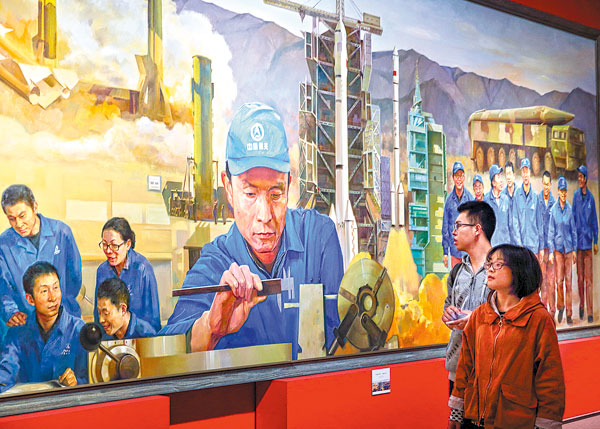 An exhibition celebrating the upcoming 19th National Congress of the Communist Party of China is admired by visitors at the National Museum on Thursday. The painting shows Xu Liping and his team of technicians processing propellant for the nation's ballistic missiles. WANG JING / CHINA DAILY)
Xi, while praising progress of past five years, warns of complacency
When looking back over the past five years, changes in all aspects of Chinese society have occurred in such a gradual, steady manner that sometimes they may not be so conspicuous. [Special coverage]
But the upcoming 19th National Congress of the Communist Party of China, which starts on Wednesday, offers a chance to review what the nation has achieved under the leadership of the Party and General Secretary Xi Jinping.
At the congress, Xi, also president of China, is expected to deliver a report on the committee's work in the past five years and to present the future direction of the Party and country.
"Our people have an ardent love for life. They desire better education, stable jobs, higher income, reliable social security, trustworthy healthcare, improved housing conditions and a nicer environment. They want their children to be healthy, to have good jobs and to lead better lives. The Party will strive to meet their wishes," Xi promised on Nov 15, 2012, when he was elected top Party leader.
The Party and Xi himself have honored these pledges by maintaining China on a correct and rapid development track.
"We have resolved a great number of tough problems the Party had wished to resolve but had been unable to do so. We have realized many grand projects the Party had aspired to undertake but had seen no completion," the general secretary said at a key Party meeting on July 26.
The achievements have been hard won. The Party and its members, numbering more than 89 million, constantly work to make sure the people have a better life and China sees a great rejuvenation.
Happier and healthier
Groups of people exercising outdoors at night continue to swell in Chinese cities. This is, to a great extent, because the air is cleaner. In 2016, average concentrations of PM2.5 — tiny, harmful particulate matter — fell by at least 30 percent in major cities compared with 2013, the Ministry of Environmental Protection said.
Water quality in lakes and rivers and soil conditions are improving, with grasslands and forests continuing to expand.
People also have seen progress in other facets of life. Incomes keep rising and more jobs are being created; food safety is no longer a concern to many people; education is getting more support and is more accessible to every child regardless of background; almost all of the public are covered by social security, and they find it easier to get medical service at a lower cost; new housing is more affordable for low-income families.
A symbol of China's public infrastructure, railway networks — especially high-speed lines — have been extended rapidly. The country has more than 22,000 kilometers of high-speed lines, accounting for 60 percent of the world's total high-speed railways.
The progress flows from comprehensive reforms the Party has been implementing under Xi's instructions in the political, social, economic, cultural and military spheres.
One of the most remarkable advances is taking place in rural areas. Nearly 70 million people in underdeveloped regions, mostly in the northwest and southwest, have been lifted out of poverty.