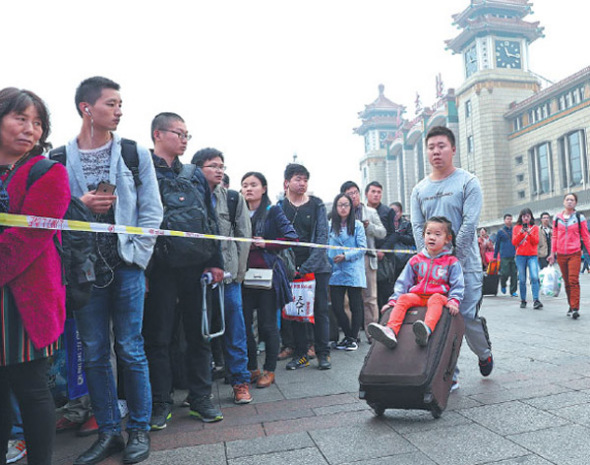 People wait in line for security checks outside the subway entrance at Beijing Railway Station on Sunday.(Photo by Zou Hong/China Daily)
Forecasters say temperatures likely to fall sharply, accompanied by stiff winds.
A strong current of cold air swept most parts of North China on Sunday, the last day of the eight-day National Day holiday, and is expected to move into central and southern areas of the country over the next three days, bringing rain and chilly temperatures, according to the National Meteorological Center.
The weather was likely to affect travelers on the last day of Golden Week, as great numbers made their way home.
Forecasters said the strong cold air would affect most parts of northern China as it moved from west to east before Tuesday, resulting in falling temperatures of 6 to 10 C in a number of areas, along with stiff winds.
Those areas included the southern Xinjiang Uygur autonomous region, Gansu province, Shaanxi province, central Inner Mongolia autonomous region and parts of Northeast China. Some places may see temperatures drop 10 to 14 C.
Urumqi, Xinjiang's capital, welcomed its first snow of the season on Friday and the city switched on its heating supply on Wednesday, six days earlier than last year, according to Xinjiang Daily.
Apart from the cold air, meteorologists also predicted medium to heavy rains before Tuesday in most areas of North China, as well as Sichuan province in the southwest and Hainan province in the south, with rainfall of up to 120 millimeters. Rain will freeze in other regions, including Gansu province and the Ningxia Hui autonomous region, they predict.
Slashing weather, beginning on the last day of Golden Week, is also likely to influence traffic conditions on travelers' way home by road, with reduced visibility.
"Visibility in North China's south-central areas would be poor, as low as 500 meters or even less in certain regions, due to fog and rain," the National Meteorological Center said.
Beijing continued to be faced with a combination of fog and smog on Sunday with typical visibility of around 1,000 meters. And air quality was getting worse - moving to moderate pollution, thanks to the weather, according to data from Beijing's environmental monitoring center.
The China Meteorological Administration reminded travelers to pay more attention to traffic safety when driving.
There was a dramatic spike in train travel on Sunday, with millions of travelers heading back to work or school after the eight-day holiday. China Railway Corp estimated that nearly 14 million passengers would travel by rail on Sunday.