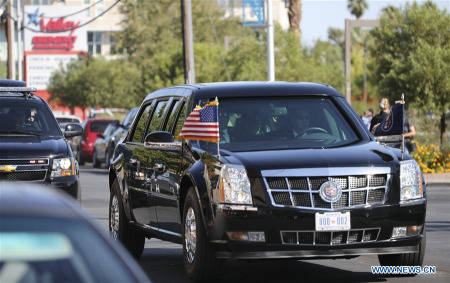 President Trump's motorcade arrives at University Medical Center of Southern Nevada in Las Vegas, theUnited States, on Oct. 4, 2017. U.S. President Donald Trump and first lady Melania Trump traveled to Las Vegas on Wednesday to show their support for the victims of Sunday's shooting massacre. (Xinhua/Wang Ying)
U.S. President Donald Trump avoided discussing gun violence problem as he visited Las Vegas on Wednesday, three days after the city was shaken by the deadliest mass shooting in modern American history.
Trump and first lady Melania travelled to the University Medical Center of Southern Nevada for a private visit with patients and medical professionals after the shooting left 58 people dead and more than 500 others wounded.
Speaking to reporters in the lobby of the University Medical Center, Trump said he'd met "some of the most amazing people" and invited them to come visit him at the White House.
The president brushed aside a reporter's question about whether the country has "gun violence problem."
"We're not going to talk about that today," said Trump, who won the support of the National Rifle Association in last year's presidential campaign.
The suspect shooter, Stephen Paddock, a 64-year-old gambler and real estate investor, purchased 33 firearms in the last year. Police found 47 firearms at the hotel and his home. Law enforcement has yet to draw a conclusion as to why Paddock carried out the attack.
Surrounded by doctors and nurses, Trump praised the medical team who treated dozens of patients on Sunday night.
"The country needs to unify. It's very diverse and divided. It's kind sad though," Judd Frazier, a nurse who works at the renowned hospital located in Las Vegas, told Xinhua after the president's visit.
"He (Trump) is a very diverse person, he speaks his mind and irritates people, but I think him being here just unifies hopefully this country. And that is what we need," said Frazier, who was about 20 feet from the stage when Paddock opened fire on an outdoor music festival on Las Vegas Strip.
"I hopefully we can come together on resolutions with the gun issues and all other issues like that," he added.
The Trumps then met with police officers and first responders at Las Vegas Metropolitan Police Department (LVMDP).
"You showed the world and the world is watching, and you showed what professionalism is all about," said Trump.
"The president of the United State is the highest ranking official of the country, when that person takes his time to come down here to see the officers, thank for what they did, it's an uplifting to all of us officers," Steven Grammas, the president of the Las Vegas Police Protective Association (LVPPA), told Xinhua.
A day after his visit to hurricane-ravaged Puerto Rico, Trump's visit to Las Vegas on Wednesday is his second trip in two days aimed at comforting victims of tragedies.
Days after the mass shooting, Grammas doesn't "think it's late." "Bring him here early would have maybe caused problems," he added. "We are still dealing with the whole lockdown there."
As the president departed the White House, Trump told reporters, "It's a very, very sad day for me, personally."
The worst mass shooting in modern U.S. history has renewed vehement discussion in the country about how to curb gun violence.
According to the non-profit organization Gun Violence Archive, the mass shooting in Las Vegas late Sunday night was the 273rd mass shooting in the United States in the 275 days of 2017.
Mass shootings, a nearly daily occurrence in U.S., are when four or more people are slain by gunfire in one incident, according to the FBI.