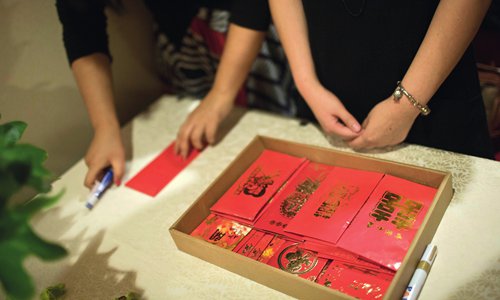 The National Day holidays are among the most popular days young people choose to get married on. (Photos: Li Hao/GT)
National Day holidays are fast approaching, but Yang Fan, 27, is having trouble feeling the sense of joy one usually associates with the vacation. She has been trying for days to buy high-speed train tickets for three different places, which is not an easy job during the holiday rush. Unlike other young Chinese faced with the same challenge, Yang cannot just pick a new place. She has to go. Three of her good friends are getting married, and she has to be present.
Falling in the cool autumn season, the weeklong National Day holidays have become among the most popular days for young couples to hold their big day.
More than 5.5 million couples got married nationwide during the first half of 2017 according to statistics published by the Ministry of Civil Affairs. In other words, more than 31,000 couples tied the knot every day between January and June this year.
In 2015, around 28,000 couples got married in Tianjin during the first week of October, and up to 60,000 tables are booked for wedding banquets in Wuhan, Hubei Province during the same period, reported by China News Service. The trend has grown to the extent that Golden Week has effectively become "wedding week" among some groups.
However full of romance and blessing it might be, the week has become a pain for many young Chinese who are asked to attend weddings during the coveted holiday period.
No time for relaxation
Yang, who works in Beijing, has received three wedding invitations so far. The events will be held in Shanghai, Nanjing in Jiangsu Province and Wuhan in Hubei Province. She had planned to have a five-day trip in Thailand, but she had to give it up.
"They are my very good friends, and I don't want to disappoint them on their most important day," said Yang.
Two of the brides were her high school classmates, and the third was her best friend in college. To attend all three ceremonies, Yang needs to keep moving. There is no time for relaxation.
"It's like a tightly packed business trip," she said.
All Yang lacks is the train tickets. She tried using various apps but still hasn't gotten them all. She feels like it is Spring Festival holiday, but with multiple destinations and more money to pay.
For some people, attending a wedding is more like a task or a debt that must be repaid.
Li Jia (pseudonym) and her newlywed husband have four weddings to attend during the eight-day holiday. The couple had intended to travel abroad, but when the invitations arrived, they had to cancel their trip. They felt like they had no choice.
"Those friends had come to support our wedding when we got married. Now, it's time for us to return the favor," said Li.
"Some people just give red envelopes or gifts. [But,] I know how much it hurts when you see empty chairs at the guest tables on your big day. We won't do that to our friends."
Costly support
The cost of attending a wedding is another challenge that many young people face when it comes to "wedding week." Paying for the journey plus gifts and red envelopes can be quite costly.
"I've already paid for around 2,000 yuan ($302) for train tickets so far, let alone the expenses for the couples," said Yang.
She estimates that the total cost for the week will be around 7,000 yuan, which almost equals her monthly income.