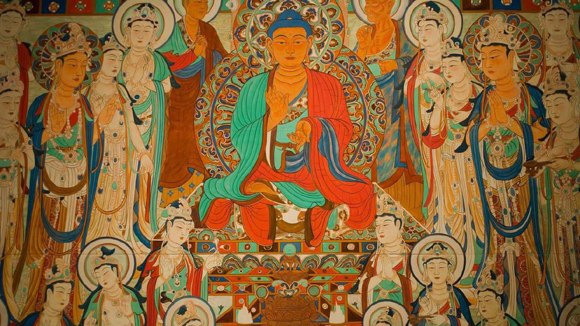 This undated photo shows murals in the Dunhuang Grottoes. (File photo/CGTN)
History fans can now get 360-degree virtual tours in English of the Mogao Grottoes, a cluster of caves holding ancient Buddhist temples and religious art in northwest China, after an English-language version of the grottoes' website was launched.
It was announced on Wednesday during the second Silk Road International Cultural Expo.
The Chinese-language version of the website was launched last year, as administrators work to limit visitor numbers to the site to protect its delicate murals.
Netizens can view high-resolution images from inside the caves.
The first of the Mogao Grottoes was dug out in the year 366, and the digging continued for another 1,000 years. The 735 caves hold more than 2,400 artworks that are very valuable for the study of Buddhism and cultural shifts across different dynasties.
However, these precious items are very fragile, and changes in humidity and temperature as well as improper human interference can be disastrous. Yet the site still receives thousands of visitors every day.
The grottoes were inscribed as a UNESCO World Heritage site in 1987.