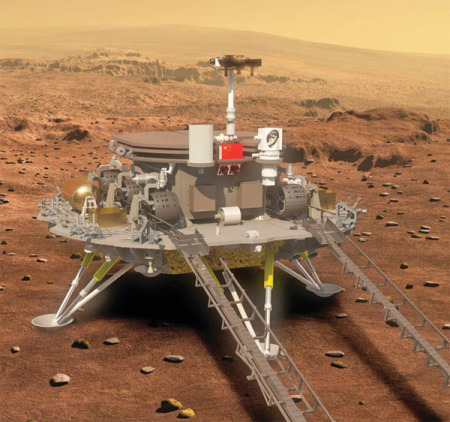 An artist's impression of the Mars probe including lander and rover. Provided to China Daily
China is on track to launch its first Mars probe around 2020, with the plan to retrieve soil and rock samples before 2030, according to the mission's chief designer, Zhang Rongqiao.
The nation aims to be the first to conduct orbital and surface explorations of Mars in a single mission, Zhang said on Wednesday at an international forum on lunar and deep-space exploration in Beijing.
The probe will consist of three parts — an orbiter, lander and rover — and will include 13 pieces of test equipment, seven on the orbiter and six on the rover.
Zhang said the orbiter and the rover will collect data on the Red Planet's atmosphere, electromagnetic fields, temperatures and landscape, among other things, while the rover will also be used to test equipment for sample-retrieval missions between 2025 and 2030, he added.
"Chinese scientists are doing preliminary research now to anticipate the data that will be collected from Mars, so we can publish our reports faster," Zhang said.
He added that the Mars mission is "going smoothly and all according to plan" despite the failure of the Long March 5 carrier rocket launch in July.
China also has plans to send probes to Jupiter in 2036 and Uranus in 2046, he said.
Russia, India and the United States have all had probes orbit Mars, but only the U.S. has successfully landed a rover and carried out surface missions.