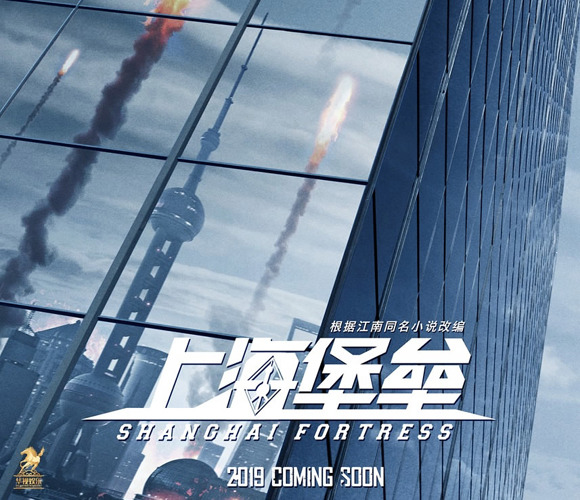 A poster for "Shanghai Fortress". (Photo provided to CGTN)
It is 2042 and Shanghai is the only city left standing as Earth is attacked by aliens.
That is the theme of the upcoming sci-fi movie "Shanghai Fortress". It will not open in theaters until 2019, but it has already received a huge amount of buzz thanks to a teaser poster released by the film's official account on Weibo, China's equivalent of Twitter, on Tuesday.
In the poster, the silhouette of the iconic Oriental Pearl Tower can be seen reflected in the glass wall of a high-rising building – together with exploding rockets.
However, it is the leading roles revealed by the poster are the greatest cause for excitement. Chinese star Lu Han and award-winning actress Shu Qi will battle to save the planet in what appears to be China's answer to "Independence Day".
Lu, 28, confirmed the news on Weibo. He said his character will be called Jiang Yang. "I'm in the Shanghai of the future defending mankind's last fortress," he wrote.
The post has received more than 2.5 million reposts, 547,000 likes and 160,000 comments in just two days.
Some fans have even started to depict their hero-to-be in sketch drawings.
The film is adapted from the novel of the same name by Jiang Nan and will be directed by Teng Huatao, the man behind romantic comedies including "Love Is Not Blind" (2011) and "Up in the Wind" (2013).
The project dates back to 2014, when production company HS Entertainment announced an investment of five billion yuan (763 million dollars) in at least three ambitious movies featuring dazzling visual effects.
But the undeniable truth is that sci-fi movies are not what the Chinese film industry is best at. The technical barriers have so far proved too high.
The film adaptation of "The Three-body Problem" is an example. Filming concluded in 2015, but the release date has been repeatedly pushed back because of difficulties in post-production. Current visual effects technology in China is unable to recreate key scenes from the book, a failing which will undoubtedly incite harsh criticism from fans of the novel.
Written by Liu Cixin, "The Three-body Problem: Remembrance of Earth's Past" was awarded the 2015 Hugo Award for Best Novel, a first for Chinese sci-fi novels.
Despite this worrying precedent, Teng seems confident. "The Chinese film market bears great potential. We need to give the audiences something that meets the standards in the industry," he said.
As filming has not yet officially kicked off, it remains to be seen if the film can do that.