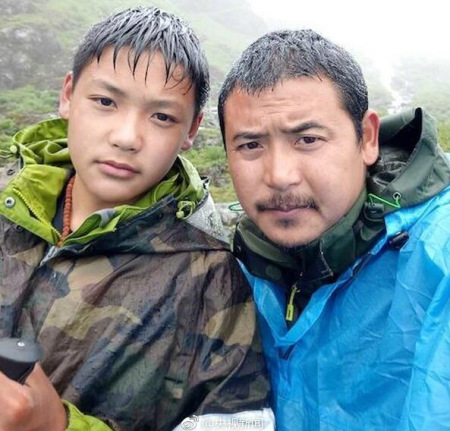 Zhang Wei and his son take selfie during their during their 1,700-kilometer-long journey from Zigong City in Sichuan Province to Lhasa City in Tibet Autonomous Region. (Photo from Weibo.com of CCTV)
On Aug. 17, Zhang Wei and his 12-year-old son Tutu finally arrived in Lhasa, capital of the Tibet Autonomous Region in southwest China. Standing in front of the magnificent Potala Palace, the youngster said he was proud to have accomplished the journey.
It took father and son 50 days to reach Lhasa some 3,000 meters above sea level from Zigong City, lying at an altitude of only 300 meters, more than 1,700 kilometers away in Sichuan Province, which borders Tibet.
They hit the road on July 8. After a short trip by bus to Kangding City, they began to walk along the Sichuan-Tibet highway, which includes several dangerous sections and 12 mountains higher than 4,000 meters.
When Zhang posted photos of their trip online after the journey, he was greeted with both applause and condemnation. While many people admired their courage and strength, some felt the parenting method was extreme and involved too many safety concerns.
"Surely, I didn't go crazy," said Zhang, in his 30s who works in a media company in Zigong, in an interview with the newspaper Chengdu Economic Daily on Sept. 8. "Even if I don't care about myself, I wouldn't put my son at risk."
According to Zhang, he and his son were fully prepared for the trip. He spent nearly one year drawing up detailed plans, and spent one month undertaking vigorous exercises with the boy. They also consumed herbal drinks every day for a month to help relieve possible altitude stress.
Yet, the trip was still arduous, Zhang recalled.
"Because of the high altitude, even when we were not carrying our backpacks, we felt just as fatigued as if carrying a load weighing dozens of pounds." He took with him a bag weighing some 30 pounds, and his son's bag weighed some 20 pounds. Every day, they had to walk more than 30 kilometers to maintain their schedule.
The climate was not comfortable, either. Due to the unique geographical position of the highway, they always experienced substantial changes in weather and temperature in the space of only a few hours. In the morning, it was usually pleasant and cool, but around noon, it would turn hot and humid. Sometimes, there would be a shower or even a hailstorm in the afternoon, and the nights were as chilly as in winter.
"Sometimes, I really didn't want to carry on, but when I woke up the next morning, I just kept going," Zhang said.
During the trip, a 78-kilometer route between the Pai Township and Medog County in Tibet's Nyingchi City proved the most dangerous, because, within such a short length, they had to pass a 4,200-meter-high mountain and primary forest and an area prone to landslides. Originally, Zhang didn't include it into their plan, but his son insisted on the challenge.
At the boy's insistence, they spent four days to conquer what is recognized as one of the most challenging hiking routes in the world.
When the father and son finally reached Lhasa, they stayed there for 10 days. Besides visiting tourist attractions like the Potala Palace, they also experienced local culture. They learnt to make Tibetan incense, used in sacrificial ceremonies, and visited masters of thangka painting, a traditional style of Tibetan Buddhist scroll painting. Moreover, they set up a stall in the street at Lhasa for four days to make some money to cover their costs.
"Some people thought I was not a responsible father, but they just didn't know the facts," Zhang insisted.
According to Zhang, despite being so young, his son likes travel, especially if it offers some challenge. Before the journey to Tibet, they had already taken two month-long backpacking tours. Besides, Zhang had talked with his son several times before making the Tibet plan. He said that the boy was willing to go, and, after careful observation, he believed the youngster was physically capable.
Zhang regarded the trip as a good chance to make his boy stronger. He believed that all boys should be trained hard, so that they can face hardships when they grow up.
Regarding doubts that it was too early for a child to suffer such hardship, Zhang said the period between eight and 12 years is crucial for children, as they are about to enter adolescence. He thought that he could use the trip to foster a close relationship with his son and set a positive example for him.
However, Zhang agreed hiking was not suitable for everyone. He advised other parents who want to train their offspring to make plans according to the child's conditions. "Anyway, the best parenting method is to stay with your child," he said.