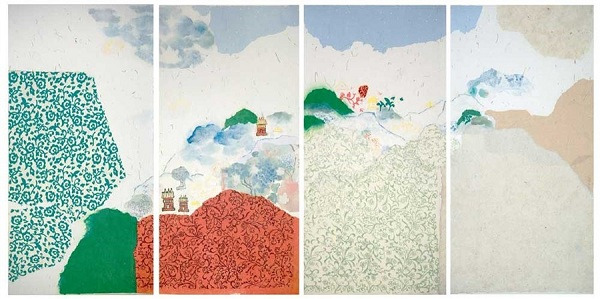 "Under the Himalayas No. 1" by Sun Jing (Photo/Shanghai Daily)
Sun Jing and Yu Qiping are holding a joint exhibition entitled "Long, Long Ago There was a Mountain" at the FQ Projects, a shikumen (stone-gate) house gallery in downtown Shanghai.
Both artists use paper as the main medium. While Sun exploits mixed-media collage on rice paper, Yu reconstructs traditional Chinese painting in a modern way.
Most of Sun's works in this exhibition are inspired by her trip to Nepal early this year. She integrated exotic colors and materials of the country into the works and explored mixed media on rice paper and silk.
Yu is presenting a series of works of people bathing in different scenarios. He says his special feeling for bathing came from his childhood and his nearly 20 years of life experience in Japan.
The backdrop in Yu's paintings is usually filled with fun, such as books, wine, teapots, horses and window sills.
Both works of Sun and Yu embody a contemporary sentiment of the literati, leisure and an idyllic sense of urban life, a yearning for the unity of nature and man and an attitude toward returning to our roots.
Date: Through October 29 (closed on Mondays), 10am-6pm
Address: Bldg 76, 927 Huaihai Rd M.
Tel: 6466-2940