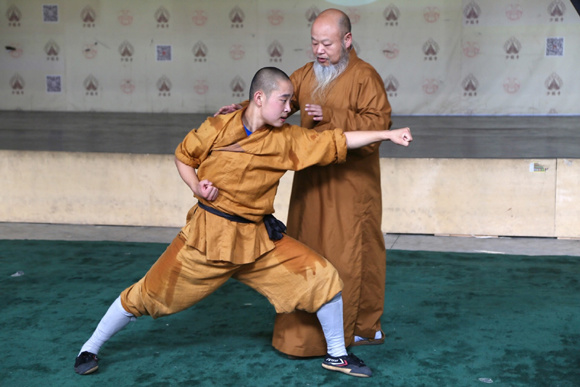 Master Shi Yanzhuang teaches Chang Tianci Shaolin Kung Fu. (Photo/CGTN)
‍China's urbanization drive started decades ago when 80 percent of the population lived in the countryside. Today, China has more than 160 cities with a population of a million and above. And the country's urban population accounts for more than half of its total.
CGTN correspondent Han Bin went to Shaolin Temple in central China's Henan Province. There, he found urbanization is changing that once isolated place.
The morning call to prayer rings at 4 o'clock every day. It's part of life at Shaolin Temple. For thousands of years, the ritual has never changed. The temple is the spiritual and physical home for the warrior monks who practice Kung Fu.
17 year-old Chang Tianci has been seeking the martial arts since he was 6. He's been following Master Shi Yanzhuang, the head of the warriors at Shaolin. He says Kung Fu is a state of achieving the pinnacle of skills. He's found himself through the practice.
Shi Yanzhuang, head of warrior monks introduced that practicing Kung Fu is a unique way of life that is under challenges from urbanization.
In regard to the temple's booming tourism, Master Shi Yanzhuang said that it is a noble merit to enable more people to accept such physical and spiritual cultivation achieved by the ancestors. "I don't see anything wrong with its opening up to tourism. Precious gifts should be shared by all," he said.
Shaolin Temple is letting the outside world in. Today, it's a tourist spot with Kung Fu as the big show. Gone are the days the monks practiced in isolated mountains. In modern China, growth is the concept everywhere. Ancient temples can be a big business.
Some people have criticized the Shaolin Temple of being too commercialized. But the monks there have different perspectives.
"Without urbanization, Shaolin Temple would still be unknown to the outside world. I think there's nothing wrong with the so-called commercialization, as it helps promote the temple," said Chang Tianci.
"We can't refuse urbanization. We have to accept the reality of what's happened and what's to come. The only thing that doesn't change is change itself," said Shi Yanzhuang.
Yet, how to remain true to its spirit and traditions in the face of growing urbanization is a challenge facing all masters and monks.