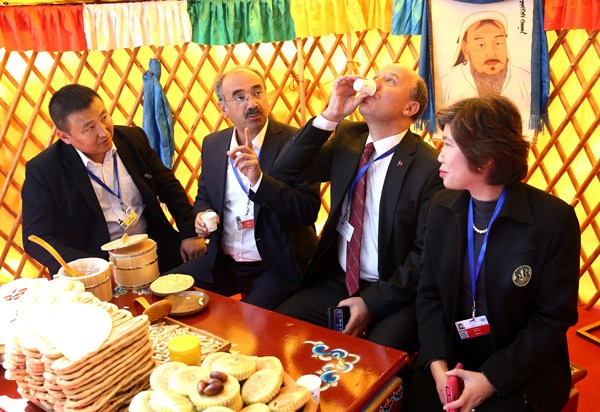 Delegates from around the world attending a meeting of the Conference of the Parties to the UN Convention to Combat Desertification, in Ordos, Inner Mongolia autonomous region, get a taste of local food, drink and culture on Sept 11, 2017. (Photo by ZOU HONG/CHINA DAILY)
China will stick to its commitment to fight against desertification and further strengthen the cooperation with all parties and international communities to make joint efforts for a better world, President Xi Jinping said in a congratulatory letter to a UN environment meeting on Monday.
The high-level segment of the 13th Session of the Conference of the Parties to the Convention to Combat Desertification is being held in Ordos, Inner Mongolia autonomous region, from Monday to Wednesday.
"Desertification is a challenge that is faced by all people, which also has a major influence on world development. We need to promote the principle of respecting and protecting nature. The environment should always be our priority," Xi wrote in the letter.
Xi said it has been 21 years since the UN desertification convention took effect. Major efforts from the parties have produced significant changes since then, but many people still suffer from desertification.
"The theme of this year's conference is Combating Desertification for Human Well-being. Under new frameworks, some major positive influence will be seen to build a better ecosystem for the whole world," he said.
Vice-Premier Wang Yang, who attended the conference, said China will fulfill its commitment and achieve its sustainable development goals by 2030, with green building a crucial part of the country's effort to combat desertification.