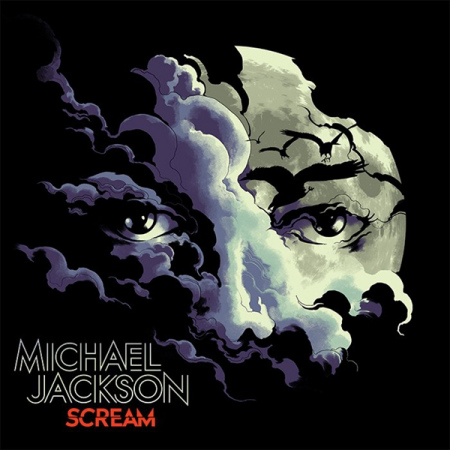 The cover art of Michael Jackson's new compilation album "Scream" (Photo/China.org.cn)
The late "King of Pop", Michael Jackson, returns with a Halloween-themed compilation album entitled "Scream" at end of September, with fan celebrations scheduled in six big cities.
Sony Music announced on Wednesday that its Epic/Legacy labels, in collaboration with the Estate of Michael Jackson, will release "Michael Jackson Scream," a collection of 13 of his all-time most electrifying and danceable tracks including "Ghosts," "Torture," "Thriller," and "Dirty Diana." Additionally, it includes a newly-created bonus track, "Blood on the Dance Floor X Dangerous", a high-energy five-song mix from acclaimed remixer The White Panda, who has created a seamless new musical experience.
"Blood on The Dance Floor X Dangerous" consists of "Blood on the Dance Floor", "Dangerous", "This Place Hotel", "Leave Me Alone," and "Is It Scary?" The choice of tracks for "Scream" reflects the late singer's affection for Halloween, with its themes of costumes and disguise, darkness and light, character transformations and surprise, Sony's announcement said.
Sony Music China's representatives have told China.org.cn the new Jackson album will "definitely" be introduced into the Chinese market, but the release date is not clear since they have to wait for approval from the relevant Chinese authorities.
However, the five-song remix has already premiered in digital format on several major Chinese online music streaming sites such as QQ and the Netease music sections.
The album will be available in two physical formats, CD and glow-in-dark vinyl (available October 27) each containing a poster unique to the format. Fittingly, the poster and cover art conceal the first ever AR (augmented reality) experience created for a Michael Jackson project.
Each track on "Scream" is remarkable in its own way. For example, "Dirty Diana" was the fifth consecutive No. 1 song from the album "Bad", shattering industry records for consecutive chart topping singles off a single album; "Thriller", penned by Rod Temperton, was the seventh of an unprecedented seven Top 10 singles from the biggest-selling album of all time; and the Top 5 hit "Scream" is the only duet between Michael Jackson and his sister Janet.
Also included are fan favorites from the Jacksons' albums – "Torture" and "This Place Hotel" (the first single to be written, composed, and arranged solely by Michael); and, making its first appearance on a Michael Jackson album, "Somebody's Watching Me", the international 1985 hit by Rockwell featuring an iconic hook sung by Michael.
Fans are being invited to Official Michael Jackson Scream Album Celebrations this fall. These celebrations will take place in six major cities around the world: Paris, London, Sydney, Berlin, Los Angeles and Tokyo. The event will include screenings of Michael's seven short films from the "Scream" album including the full-length 40 minute "Michael Jackson's Ghosts", rarely seen following its initial screening at the 1997 Cannes Film Festival.
Jackson's estate has other thrilling projects to celebrate the "Scream" bundle as they have also repolished and enhanced the superstar's iconic short film "Thriller" with a 3D conversion using the latest available technology. The 3D new version premiered at the 74th Venice Film Festival 2017 on Sept. 4.
And there's a new animated special in production and coming to television this fall – "Michael Jackson's Halloween." It will be broadcast on CBS in the U.S. and there are deals with local broadcasters in other countries around the world.