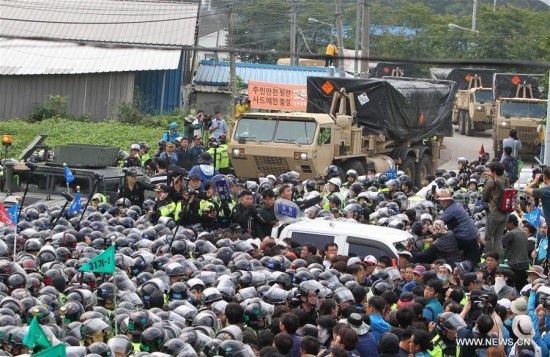 Elements of the U.S. Terminal High Altitude Area Defense (THAAD) missile interception system arrive in Seongju, South Korea, on Sept. 7, 2017.(Xinhua/Yao Qilin)
China has lodged serious representations to the Republic of Korea (ROK) over the deployment of the Terminal High Altitude Area Defense (THAAD) system, a Foreign Ministry spokesperson said Thursday.
Media reported that the ROK has installed the four remaining launchers of the U.S. anti-missile THAAD system on a former golf course.
In response, spokesperson Geng Shuang said China's position on THAAD deployment remains firm, clear and consistent.
China has called on the United States and the ROK to pay attention to the security concerns and interests of China and other countries in the region, and to stop the deployment immediately, Geng said.