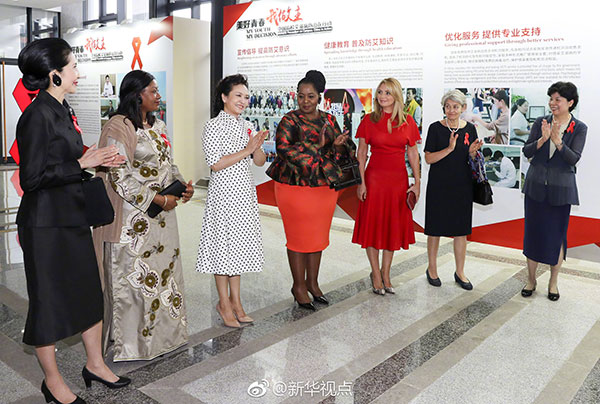 Peng Liyuan, wife of President Xi Jinping, is flanked by a group that includes the wives of leaders of BRICS and other invited countries, as they attend an event to promote HIV/AIDS prevention and control at Xiamen University on Tuesday.(Photo/Xinhua)
Wives of the leaders of nations who are in town for the 9th BRICS Summit in Xiamen and related meetings, accompanied Peng Liyuan, wife of President Xi Jinping, on Tuesday at an event to educate college students about AIDS.[Special coverage]
At Xiamen University, the guests visited an exhibition on HIV/AIDS prevention and control and listened to a briefing on efforts made by the Chinese government and universities.
Peng, often greeted by Chinese children as "Mother Peng", has long been active in HIV/AIDS prevention and other health matters.
She was appointed as a World Health Organization goodwill ambassador for tuberculosis and HIV/AIDS in 2011.
In China, she became the health ambassador for HIV/AIDS prevention for the Ministry of Health in 2006.
"Today we attend an event to promote awareness of preventing and fighting AIDS in the whole of society, especially among young people, eliminating discrimination against AIDS patients and getting spiritually vaccinated," Peng said.
At the same time, China will deepen cooperation in that regard with BRICS nations and developing countries, she said.
An official from the National Health and Family Planning Commission told the visitors that with Peng's support in HIV/AIDS prevention, activities have been carried out at more than 50 Chinese universities. They have drawn crowds of student volunteers as well as celebrities.
The visitors spoke highly of China's efforts after learning about the achievements of Xiamen University's HIV detection and diagnosis programs and talking with volunteers.
The guests also attended a UNESCO awards ceremony at the university on the education of girls and women.
Irina Bokova, UNESCO director-general, expressed her appreciation for China's many contributions to international cooperation in that field as well as the efforts of Peng, UNESCO'S special envoy for the advancement of girls' and women's education.
Projects from Thailand, Peru and South Africa won this year's awards.
It is a tradition of the Chinese nation to emphasize education, Peng said.
She added people should lend helping hands to women and children who are in need to enable them "have the chance and capabilities to change their fate and live a better life".