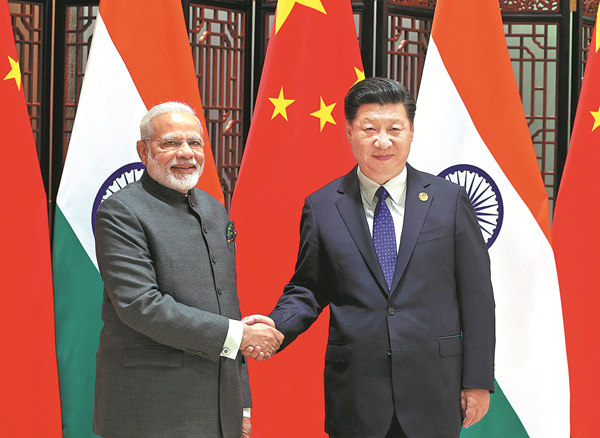 President Xi Jinping meets with Indian Prime Minister Narendra Modi on Tuesday at the BRICS Summit. (WU ZHIYI / CHINA DAILY)
China and India should maintain peace and tranquility along their border region, President Xi Jinping told Indian Prime Minister Narendra Modi on Tuesday, and he called for mutual respect between the world's two largest developing countries.
Each should adhere to the basic thought that both countries present development opportunities rather than threats for the other, Xi said at the meeting on the sidelines of the BRICS Summit in Xiamen, Fujian province.[Special coverage]
China hopes India will maintain a proper and reasonable attitude toward China's development, Xi said, adding that the two should seek common ground while reserving their differences.
The two countries should show the world that peaceful coexistence and cooperation for mutual benefit is the only correct choice for China and India, he said.
The president pointed out that healthy and stable relations between China and India are in line with the fundamental interests of their peoples.
China is willing to work with India on the basis of the Five Principles of Peaceful Coexistence put forward by both countries to improve political mutual trust, promote cooperation and push Sino-Indian ties along the right track, he said.
Noting that there is great potential for China-India cooperation in social and economic development, Xi said the two should connect development strategies, expand infrastructure cooperation, boost exchanges of people and enhance global affairs coordination.
Modi congratulated Xi on the summit's success, saying it has great significance for the BRICS cooperation in the current economic situation.
India and China should not regard each other as opponents, but make cooperation the centerpiece of their relations, Modi said, adding that both sides should jointly maintain the peace and tranquility of the border region.
India is willing to make joint efforts with China to ensure stable development of bilateral relations, and the leaders of both countries should maintain close communication to guide the bilateral relations, he added.
Sun Hongnian, a researcher of international relations at the Chinese Academy of Social Sciences, said Xi focused on the prospects of China-India cooperation and highlighted the momentum of ties among the two. "The world is large enough to make China and India gain common development," he said.
Lan Jianxue, a researcher in South Asian studies at the China Institute of International Studies, said China and India should focus on the convergence of their interests.