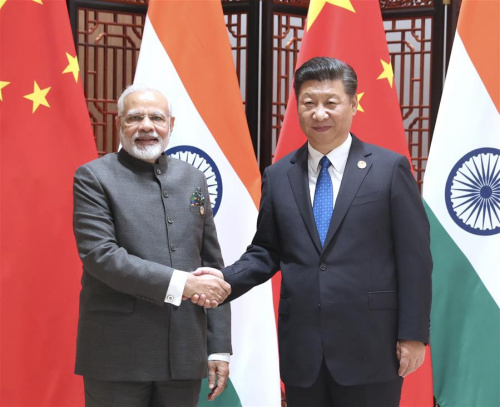 Chinese President Xi Jinping meets with Indian Prime Minister Narendra Modi in Xiamen, southeast China's Fujian Province, Sept. 5, 2017. Modi came to Xiamen to attend the ninth BRICS summit and the Dialogue of Emerging Market and Developing Countries. (Xinhua/Ma Zhancheng)
Chinese President Xi Jinping said Tuesday healthy and stable relations between China and India are in line with the fundamental interests of their people.[Special coverage]
China is willing to work with India on the basis of the Five Principles of Peaceful Coexistence to improve political mutual trust, promote mutually beneficial cooperation, and push Sino-Indian ties along the right track, he said.
Xi made the remarks when meeting with Indian Prime Minister Narendra Modi in the southeastern city of Xiamen after the ninth BRICS summit.
The Five Principles of Peaceful Coexistence are: mutual respect for sovereignty and territorial integrity, mutual non-aggression, non-interference in each other's internal affairs, equality and mutual benefit, and peaceful coexistence.
The principles were endorsed by China and India in the 1950s, and have been widely accepted as norms for relations between countries.
China and India should see each other as development opportunities rather than threats, Xi said, adding that peaceful coexistence and win-win cooperation are the only right choice for the two countries.
India should see China's development correctly and rationally, he said.
Modi agreed that India and China should not see each other as rivals and should instead make cooperation the focus of bilateral relations.
He said India is ready to work with China to develop stable ties.
Modi said he expects the leaders of the two countries to maintain close communication and play a leading role in developing the ties.
Xi said the leaders of China and India have in recent years reached wide consensus on how to advance bilateral ties, agreed on building a closer partnership, and set long-term development goals.
Much progress had been achieved in advancing the ties, he said.
The meeting came after a military stand-off lasting more than two months with more than 270 Indian troops with two bulldozers crossing the boundary in mid-June into the Dong Lang (Doklam) area, which is Chinese territory, to obstruct infrastructure construction.
On Aug. 28, China confirmed that India had withdrawn personnel and equipment from Doklam, and said Chinese armed forces would strengthen patrols and defense of the area to resolutely safeguard sovereign security.
Xi said the two sides should maintain mutual respect, seek common ground while shelving differences, and safeguard peace in border areas.
China and India are the world's largest emerging market and developing countries.
Xi said the two have great potential in economic and social cooperation. They should seek synergy in development strategies, cooperate more on infrastructure development and connectivity, and continue people-to-people exchanges.
China and India should also strengthen coordination on global affairs to strive for a fairer and more just world order, he said.
Modi said the two sides should advance mutual political trust, expand practical cooperation, increase people-to-people exchanges, and jointly protect regional peace and stability.
He congratulated Xi on a successful BRICS summit.
Modi said the world is undergoing fast changes and the BRICS countries need to step up cooperation under such circumstances, adding that the Xiamen summit played a key role in this regard.