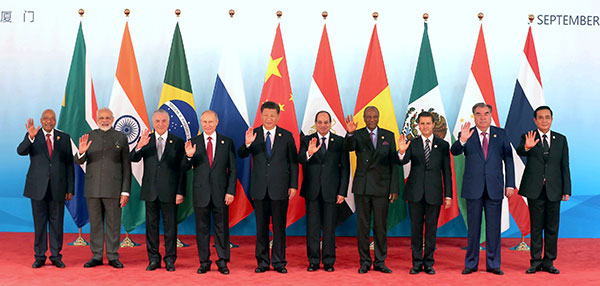 President Xi Jinping (center) stands with other leaders in Xiamen, Fujian province, on Tuesday before the Dialogue of Emerging Market and Developing Countries. The other leaders are, from left, South African President Jacob Zuma, Indian Prime Minister Narendra Modi, Brazilian President Michel Temer, Russian President Vladimir Putin, Egyptian President Abdel-Fattah al-Sisi, Guinean President Alpha Conde, Mexican President Enrique Pena Nieto, Tajikistan President Emomali Rahmon and Thai Prime Minister Prayut Chan-o-cha.(Wu Zhiyi/China Daily)
As their share of global growth rises, they should unite to effect change, he says
President Xi Jinping called for efforts to enhance the representation and voice of emerging market and developing countries in global economic governance as their contributions to global growth has increased. Xi spoke while presiding over the Dialogue of Emerging Market and Developing Countries on the sidelines of the BRICS Summit in coastal Xiamen, Fujian province.[Special coverage]
The dialogue was attended by leaders from BRICS-Brazil, Russia, India, China and South Africa-and five other developing countries, which are Egypt, Guinea, Mexico, Tajikistan and Thailand.
In his speech, Xi pledged to provide $500 million in aid to help developing nations address challenges on issues such as famine, refugees, climate change and public health.
The aid marks another strong action by China in its pursuit of common development among BRICS nations. It comes a day after Xi announced on Monday that China was setting aside 500 million yuan ($76 million) for economic and technological cooperation and exchanges among BRICS countries.
China also will provide other developing countries with 40,000 training opportunities in China in the coming year as a measure to help foster exchanges of governance experiences among developing countries, he said.
Xi said that the emerging markets and developing countries should make joint efforts to build an open world economy, support a multilateral trade system and push for inclusive, common and beneficial economic globalization.
"I'm confident that this dialogue will strengthen the solidarity and cooperation among emerging and developing countries, and also contribute to building the BRICS mechanism," Xi said.
Calling the collective rise of the emerging market and developing countries "an irreversible trend of our times," Xi said these countries have made great contributions to the global economy in recent years, accounting for 80 percent of growth last year.
"They are worthy of the reputation of being the main engine of global growth," Xi said.
The president said development remains the top priority of emerging market and developing countries. He added that as the United Nations considers reforming its development system, developing nations should push forward reform, focus on development and bring more input to truly serve their own needs.
"We need to urge developed countries to honor their commitment to increase support to developing countries in line with principles such as the one featuring common but differentiated responsibilities," Xi said.
The dialogue is a practice to implement the China-proposed "BRICS Plus" cooperation approach, which aims to get more developing countries involved in cooperation and mutual benefits.
After the meeting, the 10 countries issued a chair's statement in which the emerging markets vowed to build broad partnerships for development.