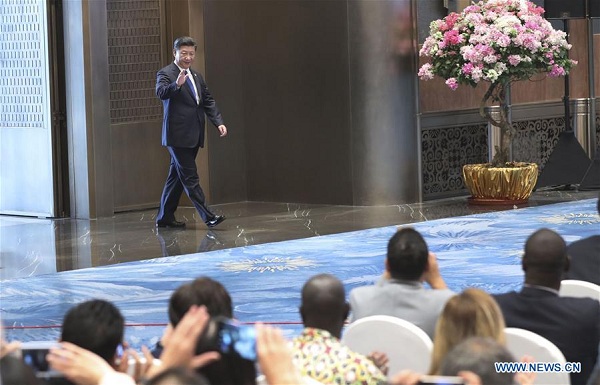 Chinese President Xi Jinping meets the press at the end of the ninth BRICS summit in Xiamen, southeast China's Fujian Province, Sept. 5, 2017. (Photo:Xinhua/Pang Xinglei)
BRICS nations should enhance coordination on macro-policy, synergize development strategy and deepen cooperation in areas such as trade and finance based on the principle of win-win and mutual benefits, Chinese President Xi Jinping said Tuesday.[Special coverage]
He made the remarks when meeting the press at the end of the ninth BRICS summit in the southeastern Chinese city of Xiamen.
BRICS countries have made headway in strengthening high-quality cooperation this year. They have worked out road maps of cooperation in trade facilitation, service trade, currency swap and settlement, and public-private partnership (PPP), Xi said.
"Through one year's work, we have made progress in building a big market for trade and investment, achieving smooth flow of currency and finance, and realizing infrastructure connectivity," he said.
They emphasized the importance of innovation, as it is key to grasp the historic opportunity of new industrial revolution and accelerate economic restructuring to achieve high-quality, more resilient and sustainable growth, Xi noted.